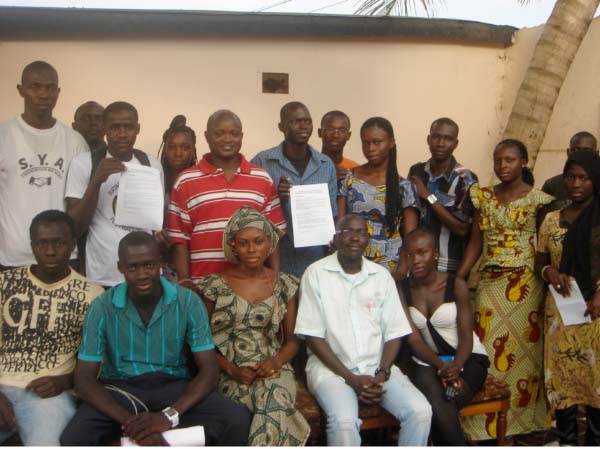 Beakanyang Kafo, a not-for-profit community-based organization in the Upper River Region and a sister youth group in Bundung known as Sensitive Youth Association signed a memorandum of understanding (MoU) at the weekend.
The signing, held at Bundung Borehole, seeks to foster friendship, cooperation and partnership between the two community-based organizations.
Speaking at the historic signing ceremony, Tumani Danjo, National President of Beakanyang, hailed the Sensitive Youth Association (SYA) for seeing Beakanyang as their role model.
He said the partnership will bring the young people of Bundung and Wuli, particularly Borehole and Barrow Kunda, very close to each other.
"Please be rest assured that Beakanyang Kafo will continue to serve as a shining example for not only the SYA but also other young people and community-based organizations in the country," Danjo remarked.
Mr Danjo assured members of the SYA of his organization's commitment towards the full implementation of the MoU.
For his part, Modou Lamin Sanyang, Chairperson of the SYA, described the day as very historic and a joyous occasion for them.
He said they have heard a lot about Beakanyang in its efforts in helping rural communities get empowered and were pleased to be in association with such a progressive organization.
"Mr Chairman, I would also like to reassure our Wuli brothers and sisters of our commitment to the implementation of this MoU," he said.
For his part, Nfamara Jawneh, secretary general of Beakanyang, said the two organizations shared a lot in common and expressed hope that with the new collaboration their two communities stand to gain.
"We have realised that in this globalised world where resources are inadequate and issues becoming more complex, partnerships are key in attaining organizational goals, which is why we have adopted an open door policy to collaboration," he said.
Babou Sawaneh, an adviser to the SYA, commended the leadership of the two organizations for the initiative.
He urged members of the SYA to take advantage of the opportunity to learn the best practices of Beakanyang.
Mr Sawaneh also hailed Beakanyang for accepting to partner with them and called for commitment from both parties to ensure the successful implementation of the MoU.
He pledged his continued personal support to the SYA and the young people in general.
Sulayman Samba, PRO of the SYA, said a month ago members of the two organizations gathered together in Bundung to work towards strengthening collaboration and was happy to see it become finally formalised.
"Beakanyang is here to help us reach where they are and we must take this chance seriously," said Lamin Kanteh, an executive member of the SYA.
The vote of thanks was delivered by Ms Fatou Conteh of the SYA and SYA secretary Kebba Jephang chaired the ceremony. 
Read Other Articles In Article (Archive)