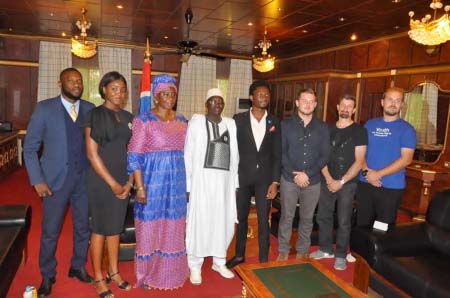 (Thursday 24th October 2019 Issue)
Officials of Beakanyang, led by its board member Gabriel Bangura, alongside representatives from Youth for Human Rights International, yesterday paid a courtesy call on the Vice President Dr Isatou Touray at her office at Statehouse in Banjul.

Speaking to reporters shortly after their dicussion, Nfamara Jawneh, Executive Director of Beakanyang said they were at the presidency to extend an invitation to the vice president to attend their forthcoming Unity Festival in URR, slated for November 22-23 and to discuss human rights situation in the country.
According to Jawneh, the aim of the Unity Festival is bring together the people of the region from all the seven districts irrespective of political and ethnic differences to promote peace, unity and social cohesion amongst themselves.
He disclosed that they have observed that since the change of government in 2016, communal conflicts have surged in the region. "We have realized that conflicts related to politics, caste system, animal encroachment into farmlands have all increased in the region over the years. We cannot continue to live in such unfortunate situation as a region," he said.
He said that was why they have also launched a weekly radio program at Radio Basse called 'Peace Hour' to promote political tolerance and pluralism in the region and would also be embarking on community Bantas in coming weeks.
He said that they were happy to complement government's efforts in promoting peace and human rights in the country.
Jawneh, who also doubles as Youth for Human Rights International Representative in The Gambia used the opportunity to call on all Gambians to put aside their differences and give peace a chance to prevail.
Rayan Conner of Youth for Human Rights International appealed for more government support for CSOs like Beakanyang.
For her part, the vice president H.E Dr. Isatou Touray welcomed the team to the Presidency and thanked them for the visit. According to her, respect for human rights is fundamental for the development and peace in any country.
VP Touray stated that cognizant of the difficult past with regards human rights violations, the new dispensation under the leadership of President Adama Barrow is fully committed to protecting and promoting human rights. The various reforms going on in the country such as TRRC, CRC, NHRC, Security Sector reform etc. she added are a clear manifestation of that.
She reaffirmed government's commitment in creating an enabling environment for civil society organizations like Beakanyang to complement her development endeavors. She commended the rights organization for working with schools and providing them with human rights educational materials which she said would help in building human rights culture in the country.
Meanwhile, the vice president has graciously accepted the group's invitation to grace their next month's Unity Festival in URR.
Read Other Articles In Article (Archive)