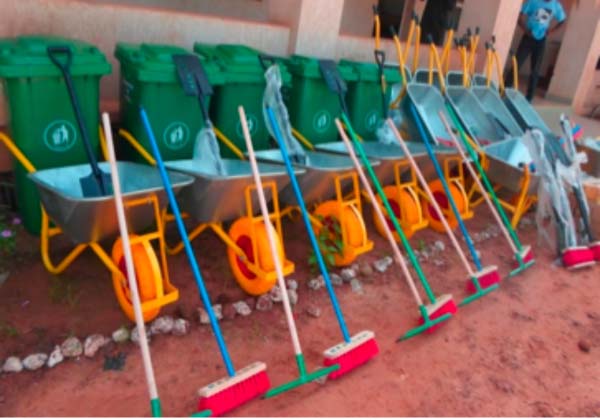 "Waste of plastic origin and other non-biodegradable materials are becoming more prominent in recent years.
"Waste generation increases with population expansion and economic development.
"Improperly managed solid waste poses a risk to human health and the environment.
"Uncontrolled dumping and improper waste handling causes a variety of problems, including contaminating water, attracting insects and rodents, and increasing flooding due to blocked drainage canals or gullies".
These were the remarks of the Executive Director of the National Environment Agency, NEA, at a presentation ceremony of assorted cleansing materials to the office of the Governor in the Lower River Region and NEA regional office.
Ndey Siren Bakurin reminded the gathering that this is in response to the clarion call of the President to support the implementation of the monthly Operation Clean the Nation (OCN) dubbed Set-Setal.
Environment being the driving force for any socio-economic development in any country, the provision of these cleansing materials to regional stakeholders would help boost the morale of the monthly activity that is mostly carried out by institutions and folk organizations, which normally need tools to embark on this monthly exercise, Mrs Bakurin said.
The effects of inadequate waste management, she noted, continue to affect not only the habitants of the Greater Banjul Area but are now becoming apparent in the growth centers including Mansakonko and Jarra Soma in LRR.
She further stated that the Gambia government is always committed to addressing this situation and has, therefore, intensified efforts in finding a solution to waste management problems.
As part of activities to improve waste management in the country, a nationwide mapping of waste dumpsites was done this year covering 96 dumpsites throughout the country that are identified to have a potential to cause high or severe flooding, as 70 per cent of all dumps visited were situated in wetlands, drainage paths, gullies, gutters, depressions and waterways, thus posing high potential environmental risks, she noted.
"It is high time to prioritize the improvement and development of sustainable waste management systems that will reduce the risk of environmental hazards," the NEA boss said.
At the central level, she went on, a system is created whereby sanitary tools are borrowed for cleanup exercise and returned at the end of the exercise, making some communities markedly improved in their success in OCN.
She finally called on the local authorities of LRR to take ownership of the items presented and sustainably utilize them.
In receiving the items, LRR Governor Salief Puye applauded the NEA for what he described as a benevolent gesture that would go a long way in their day-to-day strife to clean the environment in complementing the President`s monthly initiative.
He added that environmental protection and preservation is everyone's business and so the need to play their part.
Governor Puye revealed that a plot of land is being allocated to the NEA to house the LRR regional office of the NEA, and that all the paper work has been successfully completed.
Read Other Articles In Article (Archive)