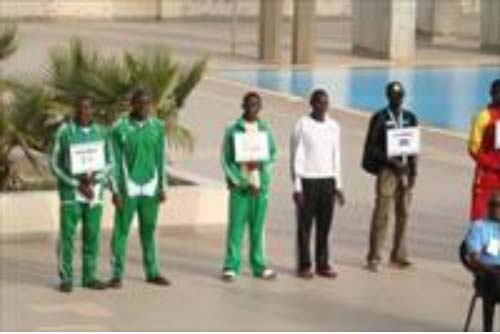 The Gambia National Swimming team will join other African countries in the upcoming 12th FINA World Swimming Championship (25m) to be held in Doha, according to a press release issued by Yorro Njie, Secretary General, of the Gambia Swimming and Aquatic Sports Association (GSASA).
This year, about 900 swimmers coming from all continents will compete in the 12th FINA World Swimming Championships (25m), to take place in Doha (QAT) from December 3 to 7, 2014.
As many as 46 events (34 individual and 12 relays) are featured on the competition programme, for a total 138 medals.
The FINA World Swimming Championships (25m) will gather the world's fastest swimmers for a five-day, top-level showdown in a 25-metre pool.
The Gambia's participation in this historic event will mark its third appearance at such international competition, following its first appearance in 2011 at the 4th edition of the Zone 2 African swimming championship held in Dakar.
According Mr Njie, the national team has been in training camp since the cancellation of the last African swimming championship to be held in September in Dakar.
He appealed for support from every Gambian for the national team at this exciting world championship in December.
This championship will serve as a qualifier for the 16th World Swimming Championship in Kazan, Russia, in July 2015 and Kazan serves as qualifier for Rio 2016.
FINA together with the Organising Committee of Doha 2014 will organize the first Youth Training Programme, taking place on December 3-7, 2014 during the 12th FINA World Swimming Championships (25m).
The objective is to give an opportunity to outstanding swimmers from each FINA National Federation to experience the world championships and get inspiration from top athletes in the sport. About 350 swimmers, aged 14 to 16 years old, will be taking part in the programme at Doha's Hamad Aquatic Centre in the Aspire Zone.
During the five-day course, tomorrow's swimming prospects will get in touch with renowned coaches to learn about the latest training trends and techniques.
This is also a unique chance for them to meet fellow young swimmers from around the world, sharing stories, cultures and a common passion for the sport in a unique setting: the venue of the 12th FINA World Swimming Championships (25m)!
The programme will provide the swimming hopefuls with a strong bedrock for knowledge-building as well as long-lasting memories and motivation for the future.
Read Other Articles In Article (Archive)