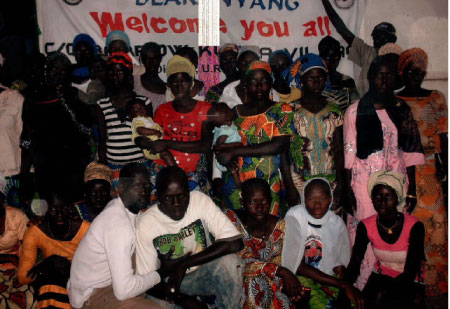 The newly created female wing of Beakanyang was inaugurated on 18 December this year at a ceremony held at the organisation's office in Barrow Kunda, Upper River Region.
Speaking on the occasion, Alkally Kebbeh, the Sare Ngai Ward Councillor, said women empowerment remains a priority for the Gambia government.
He cited the vice president, cabinet ministers and national assembly members as women, calling on the women and girls in the area to remain committed to national development.
For his part, Nfamara Jawneh, the secretary general and programme officer of Beakanyang, congratulated the women and girls of the organisation for the new development, which forms part of the organisation's women empowerment drives.
Over the years, numerous successes have been registered by the organisation and these were largely attributed to the commitment and hard work of its female members, Mr Jawneh said: "Your hard work and unity has earned us recognition and many achievements." 
Jawneh told the women of Beakanyang that solving their plights and wellbeing would remain a key priority for the organisation.
He urged the female wing to work closely with other structures of the organisation for them to achieve their goals.
"The contribution of women and girls in the socio-economic development of The Gambia is well noticed and therefore putting them of the forefront of our development agenda is highly welcome," Jawneh remarked.
He said as from 2009 women will continue to occupy key positions in Beakanyang both in the executive  and in the advisory boards.
The President of the Beakanyang Female Wing, Meta Jaineh, thanked the leadership of the oragnisation for the initiative.
She assured the members of her readiness to work with relevant structures of the group to bring rapid development to women and girls in the country.
She also thanked the members for the trust and confidence they have in her to lead the Female Wing for the next two years, while calling for the support of all members.
Other speakers on the occasion included the 2nd Vice President, Foday M.K. Touray and Kawunding Danjo, youth coordinator.
Present at the event was Mariama Barrow 1st Vice President of Beakanyang.
Meanwhile, Fofana Kebbeh, secretary of the female wing; Dusu Jolley, the vice president, and Dusu Sisawo, treasure all attended the inauguration.
The following members were also appointed as field coordinators: Tida Kebbeh, Sira Jallow, Duta Jolley, Jonkunda Camara and Sanneh Camara.
Read Other Articles In Article (Archive)