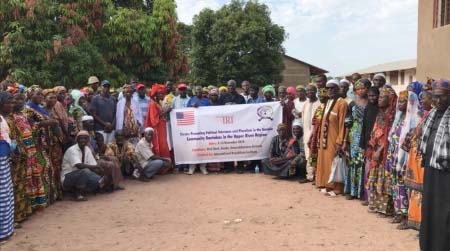 As part of its efforts to promote peace and social cohesion in the Upper River Region (URR), Beakanyang on Saturday convened the first ever Wuli West Peace Conference/Bantaba at Nyakoi Madina.

The forum brought together over 100 participants, including traditional leaders, local political leaders, youth and women leaders from across the district.
In his welcome remarks, the Executive Director of Beakanyang Nfamara Jawneh thanked participants for attending the conference.
According to Jawneh, it has come to the attention of his office that since the change of government in 2016, communal conflicts have surged in the region. "We have realized that conflicts related to politics, caste system, animal encroachment into farmlands have all increased in the region over the years. We cannot continue to live in such an unfortunate situation as a region," he noted.
He said that was why they have also launched a weekly radio program at Radio Basse called Peace Hour, to promote political tolerance and pluralism in the region.
He said the radio programme hosts National Assembly Members from the region and members of Inter-party Youth Committee to dialogue with the people on the importance of maintaining social cohesion and harmony.
He reaffirmed his organisation's commitment in promoting peace in the country especially in the Upper River Region where they are mainly focus.
He disclosed that the objective of the Bantaba was to provide a platform for dialogue among the people of the district and to identify the causes of conflict and map out strategies to mitigate such problems. "It's our hope that at the end of this forum, you will identify the main causes of political intolerance, conflicts and other factors undermining peace in your communities and also provide possible solutions to such problem," he added.
Seedia Jatta, National Assembly member for Wuli West urged participants and the people of the area in general to put aside their various differences and give peace chance to prevail.
"Politics should not divide people as it's meant to provide people the opportunity to provide solutions to their development needs and aspirations," he said.
Board Chairman of Beakanyang Yahya Sumareh thanked the International Republican Institute for supporting the convening of the forum.
Momodou Jallow, a representative of the Chief of Wuli West said the forum was the first of its kind in the district, hailed the organizers for the foresight.
In his opening remarks on behalf of the URR Governor, Mbemba Jabby, Alkalo of Taibatou applauded Beakanyang for organizing such an important forum in the district.
According to him, there are many problems in the district, most of which are politically related and urged participants to use the opportunity of the conference to resolve their misunderstandings.
He told the participants to take the forum seriously and to share the knowledge with other members of their communities.
Mr Jabby lamented that there cannot be any sustainable development in the area in the absence of peace and unity among the residents.
Read Other Articles In Article (Archive)