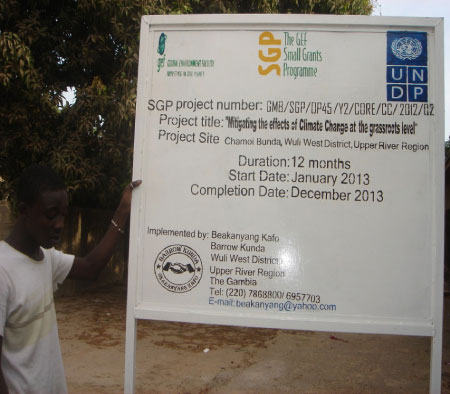 Beakanyang Kafo, a youth-led grassroots development and rights based organisation in the country recently began erecting signboards in their new intervention sites in Wuli West District, URR.
Speaking at the start of the exercise held in Chamoi Bunda, Mr. Alhagie Lamin Touray, the climate change project field assistant of Beakanyang, said the project covers the villages of Barrow Kunda, Chamoi Bunda, Jah Kunda, Draman, Limbambulu Mandinka and Gunjur Kuta.
He said climate change project is a twelve-month project that aims to mitigate the effects of climate change at the grassroots level.
"The project involves training and sensitisation of communities, radio panel discussions, as well as field based works, such as massive tree-planting exercises," he said.
According to him, the project is being funded by the Global Environment Facility (GEF), Small Grants Programme of the UNDP.
Mr. Touray commended the beneficiary communities for their commitment and participation in the implementation of the project.
Mr. Ebrima Touray, Alkalo of Chamoi Bunda, who applauded Bekanyang for considering his village to participate in the project, assured the organisation of their continuous support and collaboration as manifested at the event.
Mr. Tumani Danjo, the President of Beakanyang said: "Climate change is a serious problem that requires the participation of all and sundry, including rural communities."
Commenting on the development, Mr. Nfamara Jawneh, Beakanyang's Program Officer and climate change project coordinator, said "the purpose of the sign boards is to create visibility for the project."
"With these sign boards more people coming over here will know what Beaknayang and partners are doing over here," he concluded.
Read Other Articles In Article (Archive)