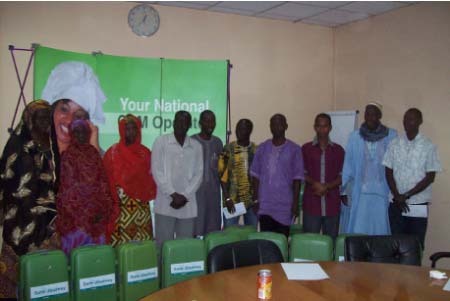 Gamcel, the national GSM operator last week presented 10 Hajj packages to nine Muslims and a Christian at a ceremony held at its head office in Kanifing.
The package which covers the cost of air ticket, travelling allowance and a suit case amounted to two hundred thousand dalasi.
The winners are Salmana Jallow, Mustapha Jarju, Amie Jobe, Isatou Sillah, Lena Gibba, Abdoulie Jammeh, Abdoulie Jallow, Sally Gitteh and Musa Dem all Muslims and Bonu Mendy a Christian.
Speaking at the presentation ceremony, Modou Lamin Jatta, Senior Marketing Manager, Gamcel said they have been giving out Hajj packages over the years, and have also been sponsoring school going children, supporting agriculture amongst others.
The move, he said, is part of Gamcel's corporate social responsibility, noting that they feel they should share their profit with their valued customers.
Jatta prayed for pilgrims to go safely and perform the Hajj and also come back home safely, while urging them to call on their relatives to join Gamcel as it is the nation's own.
Awa Jobarteh, Senior Manager Sales at Gamcel began by thanking the winners for choosing Gamcel.
She reminded the winners that Hajj is a pillar of Islam that one should perform if you can, while calling on them to perform the Hajj the way it should be done when they go.
While highlighting the importance of Hajj, Ms Jobateh called on the winners to pray for Gamcel and the entire nation during the Hajj period.
Kebba Bojang, Gamcel's Director of Customer Service for his part, said anything Gamcel does for someone you deserve it, saying "you deserve the package you won".
According to him, the Gambia is one country that you cannot find in the world, noting that, there is a Christian who won a package and gave it to a Muslim, a move, he said, shows that we are all one in the Gambia.
"We expect you to continue your prayers for Gambians", said Bojang who added that at Gamcel, they always want to ensure transparency.
"If we love ourselves, we should embrace what belongs to us (Gamcel)", he said, adding further that the promotion will be a continuous process annually.
"I pray that those of us who have not yet had the opportunity to go, Allah shower his blessings on us to also go one day," he prayed, while thanking the Gambia Supreme Islamic Council.
Abubacarr Jasseh, a representative of the Gambia Supreme Islamic Council called on everyone to emulate Gamcel by taking people to Mecca to perform Hajj, which he said, is a pillar of Islam.
He commended Gamcel for the good work they are doing, saying Allah will always reward them.
Ramou Nyass, Deputy General Manager, Gamcel said, "we thank you for your efforts in the past and continue to thank you".
According to her, patronizing Gamcel is equivalent to contributing to national development.
"You cannot differentiate between a Muslim and a Christian by appearance in the Gambia because of the love we have for one another", she stated, while commending Erica Peters, a Christian who won a package to go to Rome and gave it to a Muslim to go and perform Hajj in Mecca.
"A Christian winning a package and giving it to a Muslim is the best thing one can do", Ramou said, adding that it demonstrates the love Christians and Muslims have for one another in the Gambia.
"If someone takes you to Mecca to perform Hajj, you owe that person a lot", he told the winners, adding that Hajj is a pillar of Islam that not everyone is privilege to because if you are not called by Allah, you will never go.
Ndey Sainabou Jeng, Gamcel's Chief Promoter said as an individual, one should always value and respect what he/she has.
Yaay Minister as she is widely called prayed for the winners so that they could be the best visitors of Allah in Mecca.
"As good citizens, we should all embrace Gamcel", she stated.
Lamin Fofana, acting Manager Product and Research Development at Gamcel described the gesture as huge, adding that it is a tradition they do yearly.
Read Other Articles In Article (Archive)