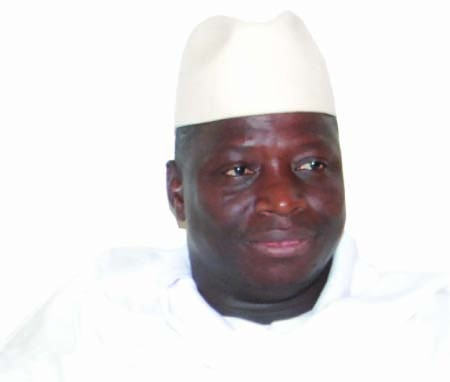 "If you cannot be honest, please leave", were the words of President Yahya Jammeh to civil servants, especially those in top government positions, during the opening of a three-day retreat on Wednesday in Kanilai.
The tough-talking Jammeh warned civil servants that he would not accept any diabolical groups or camps that are bent on undermining the development of the country.
"You cannot use your position to derail government progress and national development. You cannot also use your position for tribalism or regionalism. I cannot prevent your personal grudges against somebody, but when you are coming to work, leave it at home," he stated.
Noting that it is not his wish to always dismiss people, Jammeh said he would not have mercy for anyone who goes to the extreme.
"I will not continue to talk about attitudinal change, because turning this country into an economic superpower cannot be possible without attitudinal change," he told senior government officials gathered in Kanilai.
The retreat will, among others, provide the platform for officials to take stock of government achievements over the years, and further deliberate on the newly-launched Programme for Accelerated Growth and Employment (PAGE).
PAGE is the Gambia's development strategy and investment programme for 2012 to 2015, for the medium term. It succeeds the Poverty Reduction Strategy Paper II (PRSP II).
"As human beings, whatever we do the Almighty Allah is watching us, and if you think that you are cheating me; no you are not cheating me, but instead you are cheating the Gambian people," Jammeh said, adding that proper record keeping should be the responsibility of civil servants, and not wait until retreat time to start gathering records.
Jammeh told civil servants that when it comes to the development of this country, "I don't know my cousin or tribe or whatever, all what I know is development-oriented Gambians and nothing else."
"In this new five-year term, there will be no compromise on lackadaisical attitude, and certainly I will not tolerate clubs or clans in my government at any level. My government will have zero tolerance for clubs, whose only objectives are personal aggrandizement," Jammeh added.
Also speaking earlier, the Vice President and Minister of Women's Affairs, Aja Dr Isatou Njie-Saidy, stressed the need for judicious use of government resources and proper planning by civil servants.
Noting that there have been some tremendous improvements in some sectors, the Vice President said as civil servants they need to work closely with partners and know their roles and responsibilities.
Dr Njogu Bah, Secretary General and Head of the Civil Service, denounced what he referred to as the valuable time spent by public officials on bickering, gossiping and hatching diabolical plots against each other.
"How much resource do we lose to petty personal infighting at the expense of the state? How much of international support and cooperation is lost as a result of internal rivalries and so-called office politics," Bah fumed.
These so-called dark corner operations, SG Bah added, are not only inimical to the state but in fact run counter to the basic tenets of our religious beliefs, noting that God will sooner or later judge every one of them according to their deeds.
Noting that this state of affairs is not an option in the coming five years, Bah called on his colleagues to get real and stop the eye service syndrome, work together sincerely in the best interest of the people of The Gambia and support President Jammeh to deliver his mandate.
Meanwhile, in a separate but related development, President Yahya Jammeh Wednesday presided over the launching of the Programme for Accelerated Growth and Employment (PAGE), Gambia's development strategy and investment programme 2012 to 2015, for the medium term.
It among others seeks to accelerate the rate of growth of the economy, employment creation, as well as ensuring that the country meets its international obligations and help in the attainment of the Millennium Development Goals.
Read Other Articles In Article (Archive)