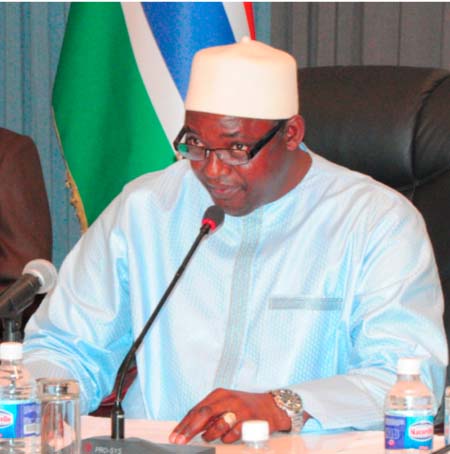 President Adama Barrow has urged his newly-appointed Cabinet ministers and permanent secretaries to work as professionals.

After the swearing in of the newly-appointed Cabinet ministers and permanent secretaries, at a ceremony held yesterday at the Kairaba Beach Hotel, President Barrow said: "I urge you to work hard as professionals to support the political agenda of my administration for us to achieve our goal. I want us to to leave a legacy of institutions, laws and procedures that will enhance our democracy, social, economic and political development of our people."
The President said the event was another important step in consolidating the change desired for the country under his administration, and that his government had pledged to engage in institutional and legal reforms; thus it needs politicians and technicians to make it possible.
Barrow also said the appointment of the new ministers was informed by wide consultation, vetting and other assessment tools and considerations.
"I personally do not know most of you here, and yet you are all appointed to very important positions in my government and I have confidence in all of you; and, from what I have heard here today, I am confident that we will work together to make this country a shining example of development, democracy, rule of law and peaceful co-existence in the sub-region and beyond."
The President implored the new ministers to serve the people without fear or favour, saying that individually they can change their attitude towards work and take positive steps to making a difference in their institutions.
"And if that happens, we will be the envy of many countries, as we commit ourselves to serving the nation in our engagements," he said, adding that the people's individual interests are embedded in the national interest.
Read Other Articles In Article (Archive)