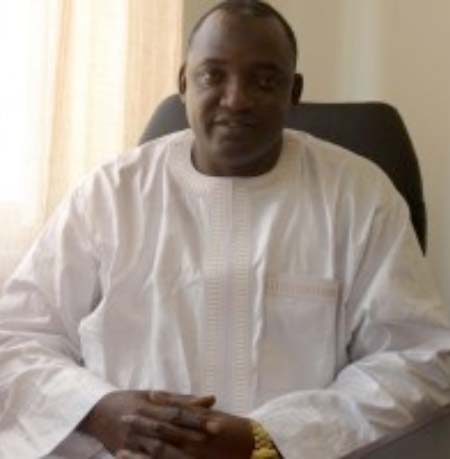 Presidential spokesperson Amie Bojang-Sissoho told journalists at State House yesterday that President Adama Barrow has rejected the resignation offer from Justice Minister Aboubacarr Tambadou.

This followed a scandalous leaked audio recording of a conversation between the minister's brother, Sheriff Tambabou and wife of one of the key suspects in the NIA 9 trial, who were accused of the murder of political activist Solo Sandeng under state custody last year.
"In this light, justice minister Aboubaccar Tambadou, a brother to Sheriff felt strongly about the leakage and offered his resignation to President Barrow," Amie told journalists.
"However, having carefully considered the resignation offer, the president had rejected this because of the trust and confidence he has in the minister's professionalism and integrity in handling his work," she said.
On whether Minister Tambadou accepts to serve the country, Amie said, "Yes, he did. It has been discussed and he accepted to continue to serve the country, on the basis of his professionalism and the belief that he has something to contribute to the country."
She added that the Minister should not be distracted by things that are associated to him but in reality, would not lead anyone to question his integrity. In that light, Tambadou accepted to serve.
"At the end of the day, what matters is 'what was he doing? Was his integrity being questioned with regard to that?' Definitely, after it has been carefully considered, the president decided he would not accept it," she added.
Also asked if the President does not see it as a problem that two brothers are on such a delicate team, or one appointing the other, Amie said the minister in fact did not appoint the brother. Rather, it is the lead prosecutor, Lawyer Antouman Gaye who actually appointed the brother to the prosecution team.
Assets declaration extended by 2 weeks.
Amie also said some ministers have submitted lists of their assets declaration as earlier directed by the President.
However, others in the cabinet have requested for more time and a two-week extension has been given.
Asked if the remaining minsters said why they needed an extension, Mrs Bojang said they did but she would not divulge that information.
"The assets declaration is not being made at the Office of the President. What we need to understand is that the government is trying to put systems in place and lay foundations for institutions to be respected. This is why it is the Office of the Ombudsman that have been tasked with the declaration and not the President," the State House press director said.
Read Other Articles In Article (Archive)