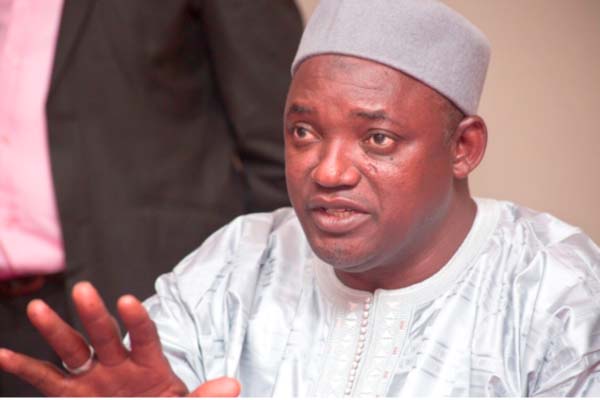 Gambia's President Adama Barrow has said the Commission of Inquiry is not set up to witch hunt anyone but rather to probe numerous allegations of mismanagement of public funds, abuse of office, and willful violations of public funds by the ex-president and his associates.

Speaking at the inauguration of the three-member commission, headed by veteran lawyer Surahata B. Janneh, President Barrow said his government will stand firm for truth and justice, no matter who it is for or against.
"We are committed to the restoration of human rights, fair play and passion for justice for all," he said.
Barrow reminded the commission members that their selection has been carefully vetted, guided by competence, integrity and qualification, given the enormous task that lies ahead of them.
Chartered accountant Abiosseh George-Gaye and banker Bai Mass Saine were other members of the commission. Proprietor of Jollof Tutors, Alhagie Kurang is Commission Secretary and Amie Bensouda as its lead counsel.
The commission has a three-month mandate which could be extended, if necessary.
The president said: "Given your profile and experience, I have full confidence that you will, in your impartial deliberations, shed lights in the numerous allegations against the former president and associates. You will also provide references to the state to help address issues of alleged mass misappropriation of public funds."
He underscored the need for credible pointers and information as important in the work of the commission, calling on the public to share information they know would help this cause.
Justice Minister Aboubacarr Tambedou said they took time to "identify very, very credible professionals who are not in government and who have integrity". It is to ensure independence, impartiality and transparency for The Gambia and the world.
"Proceedings will be public and the government will not seek to influence their decisions or proceedings in anyway," he told journalists after the inauguration.
Commission chairman, veteran lawyer Surahata B. Janneh said the commission is not a law court and has no jurisdiction to hold a criminal trial.
"However, we are empowered by law to make orders, adverse findings and recommendations that may impinge on individual rights and privileges. Therefore, certain characteristics of the commission are that we are independent; we totally refuse to be beholden to any person or institution in performing our work," he said.
Their second attribute, according to the chair, is that their attitude will be one devoid of bias and prejudice.
"Every subject of our inquiry shall have the right to instruct council to protect their interests before the commission, including cross-examination of witnesses to test their veracity," he added.
"We shall firmly adhere to the principle of fair hearing, the rule of natural justice and equality before the law. Neither our attitude, nor our procedures, nor our rulings shall be shaped or affected by any disparity in power, wealth status, and influence," he said.
Read Other Articles In Article (Archive)