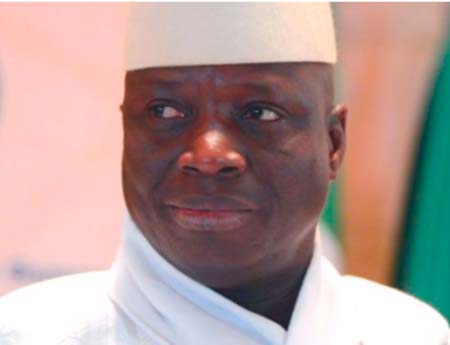 Recovering the assets allegedly stolen and hidden or invested in foreign countries by former President Yahya Jammeh could "take many years and numerous processes", the World Bank has said.

"Recovering of stolen assets is a long term process; it could unfortunately take many years because you have to work through the legal systems of many countries," the Country Director of World Bank Louise Cord said on Tuesday as the Bank signs a US$56 million financing agreement with the government.
The Gambia government said it will "vigorously pursue" recovery of assets allegedly stolen by the former president through all available channels, including the assistance of the World Bank Stolen Assets Recovery unit.
The World Bank, in partnership with the United Nations Office on Drugs and Crime, established Stolen Asset Recovery (StAR) initiative to help developing countries recover assets stolen by corrupt leaders. Upon request, StAR provides technical assistance to countries that are engaged in asset recovery cases.
The World Bank country director said the Bank has received a request from The Gambia government for support in the recovery of Jammeh's alleged stolen assets.
"The request is being acted upon and a team is involved that is working closely with the government," Ms Cord said while reiterating that "the recovery process is going to take certain amount of time".
The total amount of Jammeh's stolen wealth is not known but preliminary investigation by the government revealed that just within three years, the notorious president allegedly embezzled D4.7 billion from state-owned enterprises, notably Gamtel, Social Security and Housing Finance Corporation, and the National Water and Electricity Company (NAWEC).
The new government further accused him of leaving the state coffers with money enough to pay only two-month salaries of the civil servants.
Jammeh came to power a pauper but few years into his presidency, he became one of the richest men on the continent with his net worth said to be more than US$1 billion, according to some estimates.
Recovering the local assets
In May, The Gambia government, through a court order, froze 88 bank accounts in Jammeh's name or those of his associates, along with 14 companies linked to him.
For now, these assets are just frozen, not confiscated.
The minister of finance and economic affairs, Amadou Sanneh, said: "We need to move to the next stage and that is going through the court and commission of inquiry which will pass a final order on these assets."
He said the new government is "not going to behave like the former dictator" by seizing assets and confiscate them with executive directives.
"We are going through a process that is democratic," the minister said, while reiterating the slow pace of recovering stolen funds. "Recovering stolen assets is a process and it has legal implications and that is why we are going carefully to recover these assets."
Economic experts say the actual investigations that go with asset recovery programmes can drag on for years because they are complex and costly. Money must often be tracked through countless offshore bank accounts and shell companies and then directly linked to evidence of corruption.
Meanwhile, a report by the World Bank's Stolen Asset Recovery programme found that, while nearly $1.4 billion in suspected corrupt assets were frozen in countries of the Organisation for Economic Co-operation and Development (OECD) between 2010 and 2012, less than $150 million was returned.
Many Africans criticised European financial centres for failing to do more to return money stolen from the continent by corrupt leaders.
Read Other Articles In Article (Archive)