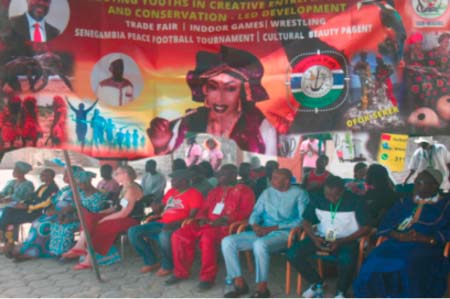 The community of Barra in collaboration with the National Center for Arts and Culture (NCAC) and other tradition and cultural festival enthusiasts, over the weekend converged at Fort Bullen in Barra, North Bank Region for the official opening and celebration of a week-long annual Niumi Fort Bullen Festival.

This celebration marked the 2nd edition of the Niumi Fort Bullen Festival which started in December 2018. The second edition was earlier scheduled from 13th to 20th December 2019 but was shifted due to the unfortunate boat capsized in December which was carrying some migrants from the North Bank Region.
Niumi Fort Bullen Festival is one of the latest additions of festivals by the National Center for Arts and Culture under the aegis of Ministry of Tourism and Culture.
The festival is meant to showcase among other activities the culture of the region, exhibition, trade fair and Niumi as one of the first communities in The Gambia to interact with the white people and where colonialism started from. The first Fort was built to fight against slavery in Nuimi but ended up as a colonial empire.
The festival brought together different stakeholders in Barra and its sixty-six surrounding communities and officials of the National Center for Arts and Culture and Gambia Tourism Board.
Sajal Sambou on behalf of the Gambia Tourism Board made a cash presentation to the organizers of the Festival as part of GTBoard's support.
Ousman Kebbeh of Gambia Tourism Board congratulated the organizers for holding the second edition of the festival and dilated on the festival and its importance to the Niumi community and expressed GTBoard readiness to support the youth of the region in term of empowerment, job creation and self-employment.
Aba Hydara, head of promoters of artistic creativity and excellence applauded all their sympathizers and the Gambia Tourism Board for their support. He extended appreciation to Niumi Fort Bullen Festival Goodwill ambassador for her unflinching support since the launching of the festival in 2018.
In extension, he thanked all their guests home and abroad, Niubara Association in Diaspora, entire people of North Bank Region and the different cultural troupes for making the festival a laudable one.
Representative of Niubara Association in Diaspora, the Niumi Fort Bullen Festival Goodwill Ambassador, councilor Kebba Jallow, VDC chairman and President of Barra Backway Victim Survivors Association, all made remarks at the opening of the festival.
Among the activities to mark the festival included trade fair, indoor games, wrestling, different cultural performances, Senegambia Football Peace Tournament and Cultural Beauty Pageant.
Read Other Articles In Article (Archive)