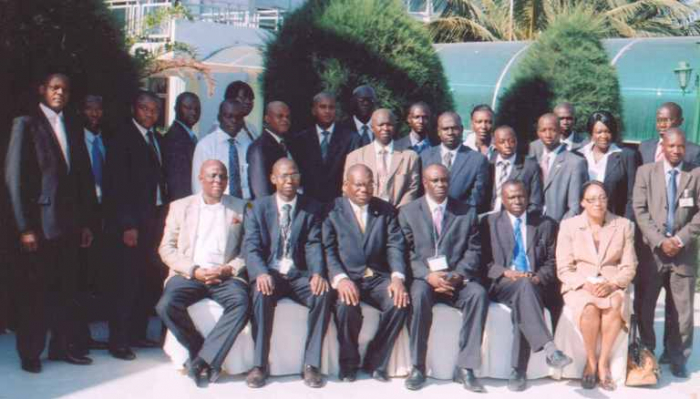 A three-day Anti-Money Laundering and Combating Financing of Terrorism (AML/CFT) compliance training programme for bank officials in The Gambia is underway at the Paradise Suites Hotel in Kololi.
The training, which brought together participants from almost all banks in the country, is organised by the Inter-Governmental Action Group Against Money Laundering in West Africa (GIABA), in collaboration with DataPro Limited, a leading ANL/CFT compliance training and consulting firm in Nigeria.
Speaking at the opening ceremony, Abimbola Adeseryoju, managing director of DataPro, said The Gambia remains a strategic tourist destination and an emerging financial supermarket in the West African sub-region.
As a result, he added, the country is vulnerable to the risks of criminals, money launderers and terrorists trying to use the country and its institutions to perpetrate their nefarious activities.
According to him, the participants must be vigilant not only because of national security, economic planning and social development but also to ensure the soundness and safety of their banks and other financial institutions.
Abimbola stated that the Mutual Evaluation Report (MER) on The Gambia by GIABA in 2009 noticed knowledge and capacity deficiencies among reporting entities as part of the major weaknesses in the country's AML/CFT compliance regime.
To fill this gap, he said, GIABA decided to organise this programme taking place in the country.
"It is expected that participants will benefit from the practical and professional experiences of the facilitators to improve on their compliance procedure, processes, programmes and policies," he said.
He added that participants will be exposed to the latest techniques, solutions, patterns and trends on anti-money laundering and counter-terrorism financing.
For his part, Dr Abdullah Y. Shehu, director general of GIABA, says the objectives of the training is to guarantee the safety and soundness of financial institutions in The Gambia through sensitising compliance officers to international best practice on anti-money laundering and combating financing of terrorism.
He added that the training would also provide compliance officers the knowledge and tools required to file mandatory and suspicious report to relevant authorities.
Read Other Articles In Article (Archive)