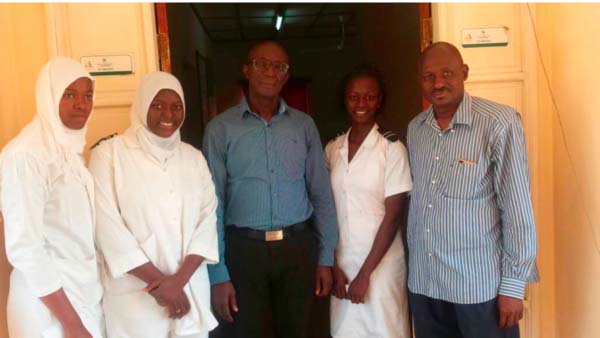 The National Assembly member for Banjul North and committee member on health at the National Assembly, Hon. Ousman Sillah, toured the Edward Francis Small Teaching Hospital (EFSTH) and Gambia Senior Secondary School on Tuesday.

Speaking during the tour, the public relations officer at the Edward Francis Small Teaching Hospital, Momodou Lamin Jammeh, said that as the main referral hospital in The Gambia they had informed Banjul City Council (BCC) about the difficulties they have encountered.
Mr Jammeh pointed out that the difficulties they face include inadequate oxygen bottles and that a continuous supply oxygen for patients would costs D750,00 per month.
He said they still have to provide it to the patients despite their financial weakness.
Sillah Ba Drammeh, the departmental matron for the Polyclinic said the facility was built in 1988 but that there has been no major renovation since.
"Our main constraints are furniture, a standby generator, working tools like blood pressure machines, inadequate staff, the transportation of patients, a leaking roof and lack of drugs as well," he said.
"There is only one computer that has an internet connection throughout the Polyclinic," he added.
Alfusainey Sanyang, a senior nurse at the Polyclinic, requested the government through the new National Assembly Member to help them with more nurses and specialized doctors.
"All major skin cases are being referred to the Polyclinic and there are no nurses or doctors that are well trained on the course," he said.
For his part, Lamin M.B Jaiteh, the Principal of Gambia Senior Secondary School, said, "the school was established in 1959 and I have been in the teaching in the field for almost 40 years but for the first time in my professional life I have seen a national assembly member visiting the school for which we are grateful. We have tabled our problems to former National Assembly members but no necessary action was taken," he added.
Principal Jaiteh, also pointed out the problems the school is facing, "the number of students enrolled then was less than 500. Now we are enrolling over 2,500 and this is having a negative impact on the building, the toilets and most especially the school library and science lab."
He continued by urging Gambians to consider teaching as a meaningful career and not merely a stepping stone.
After the tour, the NAM for Banjul North, Ousman Sillah, said he is not only representing Banjul North but The Gambia at large.
"I have been acquainting myself with public institutions and facilities within my constituency, Banjul North, in particular and Banjul, in general in the last two days. It was also a fact finding mission to know what challenges people are facing and how I can be of help in addressing them at the National Assembly," he concluded.
Read Other Articles In Article (Archive)