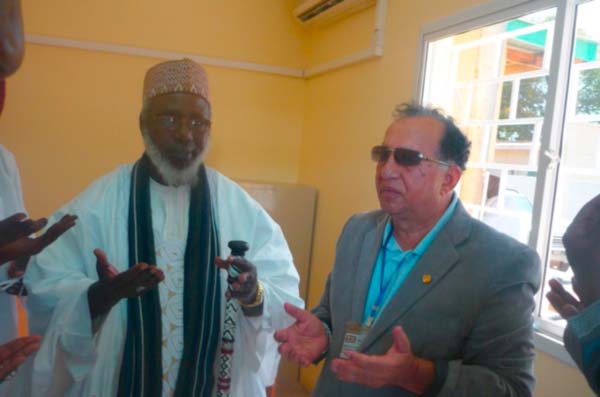 The Banjul Muslim Elders Committee yesterday handed over to the Edward Francis Small Teaching Hospital (EFSTH) the mortuary refurbished and renovated to the tune of D400,000, to the hospital management.
Speaking on the occasion, the Imam Ratib of Banjul,Alh Cherno Mass Kah, said the mortuary and burial rites are two important aspects before one is finally laid to rest and, as such, the work done at the mortuary was a step in the right direction.
He thanked everyone who had contributed in one way or the way to the completion of the project.
Imam Ratib Kah added that they plan to embark on the second phase of the project before the commencement of the rainy season, by roofing the entire waiting place for family members and relatives to be comfortable while waiting for the washing of the deceased.
He called on all to unite and work together for the advancement of the country, and thanked the Gambia government for creating an enabling and peaceful environment for all to live in.
He also thanked those in the Diaspora for their contribution and support.
Professor Khalil, Chief Executive Officer of EFSTH, said he was honoured to be associated with his Muslim brothers in such a laudable project.
On behalf of the hospital management, patients and everyone, he expressed appreciation and gratitude to the Banjul Muslim Elders for their work, saying renovating and refurbishing the place required sacrifice and substantial resources.
"We are really grateful and will use the place appropriately," he said, adding that they are looking forward to seeing the commencement of the second phase of the project.
Alhaji Alieu Mboge, Secretary General of Banjul Muslim Elders, said the idea to renovate and refurbish the mortuary was conceived by Imam Ratib Kah, adding that about D400,000 was spent on the entire project.
He added that institutions, the Mourites, the society, mosques and individuals had to contribute both in cash and kind towards the project.
He thanked everyone, as well as Gamtel which carried out the first renovation in 1991.
Read Other Articles In Article (Archive)