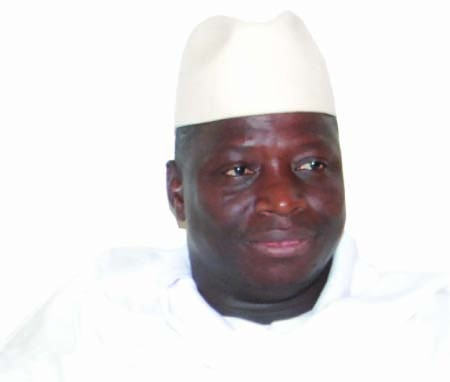 The Gambia on Saturday celebrated its 47th independence anniversary from the yoke of British colonial rule, with a speech by President Yahya Jammeh which, among others, highlighted his government's achievements over the past 17 years.
The event, which as in the past few years has been decentralized, saw celebrations in Banjul and the Kanifing Municipality, in which mayors Samba Faal and Yankuba Colley of Banjul and Kanifing Municipality respectively read out a statement on behalf of President Jammeh, after a march-past by school children and security forces.
"The day now rekindles our hopes and optimism for a brighter future, noting that the achievements we made within these seventeen years are incomparable to the centuries of British colonial rule and decades of self rule that culminated into a legacy of depleted resources, inappropriate national institutions and organizational structures that did not march the realities of our social context," Jammeh said in his statement.
In redemption, he added, with the Second Republic came the restructuring, reformation and regulation of our state apparatuses and institutions in line with our shared values, diversity and cultures.
"One may posit, therefore, that there is little merit in celebrating the attainment of political independence without putting it into context, for political independence has led to the struggle for economic independence".
According to him, although as a historically significant event, Independence Day always offers an opening to reflect on the advantages and honour of being a sovereign state, it has come to assume an inspirational significance for rededication to the never-ending task of nation-building.
In The Gambia, he went on, it is a struggle to attain an economic superpower status, for which all hands must be on deck, adding that in spite of the considerable strides made over the years, the attainment of such a status requires more than what Gambians are currently giving to their nation.
Noting that nations are what the citizens make of them, Jammeh stated that this is what is portrayed by their level of faith in the Almighty Allah, coupled with sacrifice, discipline, devotion, hard work and selflessness.
"It is within this spirit that all Gambians must unite in word and in deeds, bound by the same goals, aspirations and love for their motherland, if The Gambia is to become an economic superpower," he said.
The Gambian leader noted that his policies and decisions, including the appointment of his cabinet, amply demonstrate his commitment to giving every genuine and patriotic Gambia a chance to serve the nation, irrespective of all forms of affiliation.
While calling on all Gambians to join his Cabinet to work together for the good of every Gambian, President Jammeh said the Programme for Accelerated Growth and Employment (PAGE) sets out a clear path for us.
However, he added, the pronouncements therein will never come to fruition without the requisite degree of dedication, determination and support from all Gambians.
He further stated that going by the results of the last Presidential Election as an indicator, he is optimistic that his government's programmes will be supported wholesomely by the greater majority of the people.
"In consequence, my Government will provide the political will, and we expect that the people will reciprocally defend and support Government in its drive for a new Gambia," he said, adding that in the march towards becoming an economic superpower, it is crucial for every citizen to contribute in some way in filling the existing capacity and intervention gaps.
The celebrations in Banjul and the Kanifing Municipality were attended by cabinet ministers, regional governors as well as National Assembly Members and ward councilors.
Read Other Articles In Article (Archive)