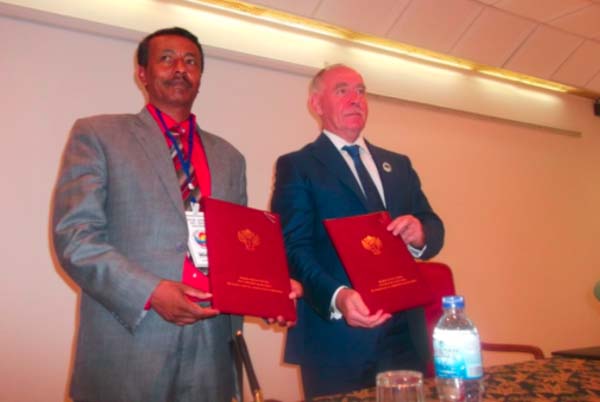 The Russian government, through its Federal Drug Control Services, signed a bilateral agreement with the Ethiopian government to jointly combat drug trafficking.
The deal was made during the recent Moscow-Africa anti-drug dialogue staged at the Kairaba Beach Hotel in The Gambia.
The deal is geared towards helping the nations to combat the issue of illicit drug trafficking and its negative implications on human health.
The dialogue also showcased a great opportunity for the Russian government and various representatives from the African continent, who discussed the way forward in the fight against drug trafficking.
The Gambia government through the dialogue revealed its firm stance and political willingness to the fight against illicit drugs.
Speaking at the signing ceremony, the head of drug control at the Ethiopian Federal Police, Tsegaye Weldhtwot, expressed his government's continuing commitment to the fight against drug trafficking. He said the bilateral agreement would help both nations to fight against illicit drugs.
"This will help to counter attack drug trafficking for the common good," he said. "Our government is committed to combating drug trafficking because the trafficking is a source of criminal activities," he pointed out.
The Director of the Federal Control Service of the Russian Federation, Viktor Ivanov, highlighted Africa as an area of anti-drug trafficking, which can be fought through joint efforts to combat the problem.
Collaborative efforts will stabilize the commercialization of drugs for the common good of the African continent and to the whole world, he said.
"We are very much appreciative of the African continent's contribution in the fight against drug trafficking," Mr Ivanov said.
"(Africa) sees drug trafficking as an overall threat to global security. I am convinced with the successful completion of the conference; the dialogue will be presented and given a special session at the UN meeting in April 2016." 
Read Other Articles In Article (Archive)