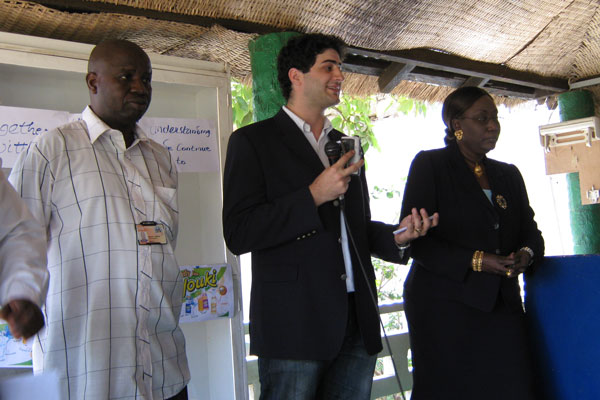 In a bid to build up the local domestic market, Banjul Breweries Gambia Limited, the home of Vimto, Cocktail and Malta among other beverages, on Tuesday 3rd March 2009 launched four more brands to join its current ones in The Gambia's fridges.
The Youki Brand, a product of Castel Groupe in Paris, who owns about 50 breweries around Africa, is among other things aimed at meeting the expectation of the seemingly increasing consumers of Banjul Breweries products.
Apart from Vimto, Cocktail, Malta and others, Banjul Breweries now have in their flavours, the Youki Grapefruit, which is exactly like the old bitter lemon, we have the Youki Pineapple, which is a new flavour, the Youki Lemonade, which is a bit sweeter and Youki Soda water.
Speaking at the launch ceremony, held at the Banjul Breweries premises, Mr. Thibault De Laplagnolle, country sales and marketing manager, said with these new products, Banjul Breweries is hoping to show its will to help the local market and then sustain the local economy.
"We could have imported the products from other breweries in other countries, but we decided to produce it locally in order to sustain the local economy," he said. He added that the company has always make its products affordable to everybody and these four new products are no exception.
According to Mr Thibault, the company wants to use the knowledge of brewery work to implement it in the local market. "We decided together with the management and the workers to start those new flavours in order to meet the expectation of the consumers.
This is prompted by the fact that there was lot of feedback regarding the bitter lemon that we used to produce, which was a real success," he noted.
For her part, Mrs Fatou Sinyan-Mbergan, financial controller at Banjul Breweries, appealed to everybody to patronise Julbrew in their bid to contribute meaningfully to the socio-economic development of the country.
Also speaking earlier, Borry Darboe, customer service supervisor, said, "together with your usual co-operation and understanding Banjul Breweries will continue to provide its ever increasing customer base excellent products, the taste they can's resist".
This, he added, has been the bedrock for Banjul Breweries as they always make sure that they produce products that each and every Gambian would like.
"Banjul Breweries has been on the ground for a long period now since 1977 and up to date, we have been providing excellent services.
"It is also our pledge to continue providing you excellent services, which every one can always rely on.
The price for a crate of the brand is D190 in the market and D10 per bottle," Mr Darboe stated.
Read Other Articles In Article (Archive)