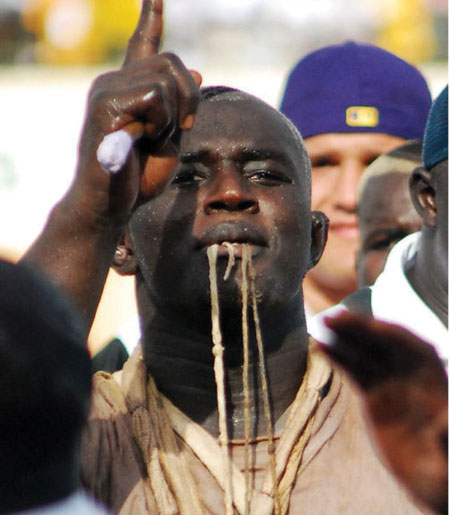 Rising Senegalese wrestler Balla Gaye 2 proved too powerful for his opponent Yahya Diop (Yekini) at a grand combat in Dakar yesterday, taking him just two minutes ten seconds to bring him down.
Balla, 26, overcame his opponent who has for for the past 15 years never registered any defeat until yesterday in the presence of thousands of Senegalese supporters and viewers worldwide.
Yekini, 35, has contested 21 wrestling competitions of which he won 19, drew once and lost once.
Balla Gaye 2, has 19 competitions, registering two defeats and 17 victories.
Son of "Double Less", a former champion in the 1970s and 1980s, Balla embarked on wrestling under the spell of "Tyson" he considered his idol when he was younger. Balla Gaye II is going on in his sweet way through his charisma, feats and bad boy-like provocative feature.
As a mixture of culture and sport, wrestling with body punching is highly appreciated in Senegal where it rouses a lot of enthusiasm among the public, sponsors, advertisers, and commercial companies that are desperate to get their brands into the stadium for a larger national and international audience. This explains the reason why it is overhyped as over 80,000 fans swarm over the venue of a bout which has been turned into a multi-million dollar game. Wrestlers, the majority of whom can neither read nor write French as Senegal's official language, have now found a way to tackle poverty as they can earn up to dozens of millions of CFA francs for one clash. Most of them left school or low-paid jobs as tailors, mechanics, or carpenters to embark on a wrestling career.
In this battle, he emphasized that he had no doubt as to his victory on Yekini which, since 1997, ruled the fight with strikes. Balla Gaye 2 recalled that he preferred to continue to fight his opponent who stated that he had not mastered the techniques of boxing.
"But when he attacked me in pure fight, I had to respond and I had beat him as promised," he said, indicating that he had always said that he had well studied his opponent.
Balla Gaye 2 had, at the last face-to-face in the gardens of the RTS, explained that he had well studied the game to his opponent and knew him well.
"I said that I knew him well and tonight, I confirmed it", he added.
Read Other Articles In Article (Archive)