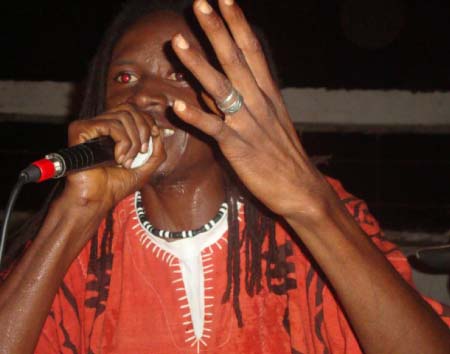 Three hot Gambian artistes in name of Bala Ranks afro-Manding, Dr Olugander and Njie B have thrilled fans at a well-attended show during the Muslim feast of Tobaski at the rural village of Kudang in the southern Central River Region.
The greatest Gambian Artistes played in Kudang on various dates but the same venue and Dr Olugander, who performed on stage featuring Njie B, was in the village courtesy of the Demo Youths, a youth organisation based in the Kombos, while Bala Ranks, who played on 20 November 2010, was called by Green Impact Football Club, a nawataan team in Kudang.
Both musicians thrilled fans to satisfaction and both hailed their hosts for the hearty welcome accorded to them during their visit.
Bala Ranks, actual name Bala Musa Kuyateh, was given a high-profile welcome with cultural masquerade, which escorted him up to the village.
In a chat with Entertainment, Bala Ranks said he was happy for the way and manner the residents of the villager welcomed him and his entourage.
"I feel honoured about the welcome I received, I am a afrong manding musician and both of my parents are musicians that was what motivated me to sing in my own language; that is Mandinka," he explained.
The rising Gambian artiste noted that he would soon release his next album, which, he said, his fans would appreciate it.
Dr Olugander, who embarked on a Tobaski tour, said the aim of the tour was to support flood victims in the country and as youths, he said: "Let's keep up the faith and support one another, because scenarios like these are inevitable and what happened to others might happen to us."
He said he also feels delighted about the welcome accorded to him, adding that he started the tour in the Kombos and moved down to rural Gambian.
The musical doctor also disclosed his plan of releasing another album, which, according to him, is sponsored by Africell.
The mega event is organised jointly by the Gander's Label Production in collaboration with Ebbeh-Gi, is a non-profit youth organisation, based in Faji Kunda.
Njie B also made similar comments saying they are ready to impact change through music.
Read Other Articles In Article (Archive)