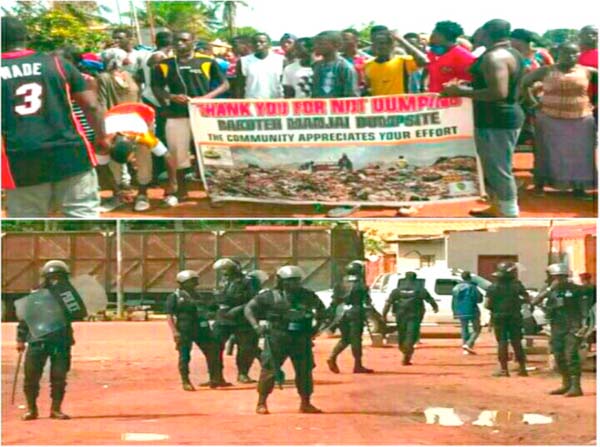 A clash ensued between the communities of Bakoteh and Manjai, and members of the Police Intervention Unit during the weekend over the long standing issue of dumping at the Bakoteh dumpsite.

The dispute started on Saturday when a group of youth from Bakoteh and Manjai protested against the dumping of collected waste and garbage from a cleansing exercise held at the municipality's biggest market in Serekunda on Saturday.
The chaos resulted in the prevention of more than 12 trucks, loaded with waste and garbage from being dumped at the Bakoteh dumpsite. The dumpsite is situated between the townships of Manjai, Bakoteh and DippaKunda.
Personnel of the Police Intervention Unit were present in what officials say was to "facilitate the peaceful and smooth dumping process" following directives to that effect from the authorities.
Earlier on Saturday, two separate indoor meetings were held between Interior Minister Mai Fatty, and the youth leaders of the Bakoteh/Manjai communities at the Bakoteh Police Station and municipality offices, respectively, without producing a positive breakthrough.
''The President had instructed that every measure should be exhausted in order to make sure that the interest of the nation prevails. The community of Bakoteh also has serious concerns. The responsibility of government is to look at the overwhelming interest of the country and of the citizenry," said Mr. Fatty, noting that they were working on behalf of KMC who had the primary role of handling the situation.
''This is not a problem created by us; we were invited by KMC which has the primary responsibility of handling this situation over the past decades. Therefore, the government is working at the invitation of KMC but also at the interest of the relevant ministries – Ministries of Environment, and Local government," he explained.
Hon. Halifa Sallah, the National Assembly member of SereKunda, advised the youths to find peaceful resolution to the issue in a court of law than engage in violent acts by taking matters into their own hands.
A presidential aspirant and leader of GDC, Mama Kandeh, echoed similar sentiments.
Rohey Njie, the spokesperson for the Bakoteh/Manjai community, said they will be willing to have a dialogue with the government if the latter is ready to listen to their demands.
''Our demands are for the Bakoteh dumpsite to be shut down and let them take care of the garbage that is already there. Why would we allow garbage to come?" she questioned.
Read Other Articles In Article (Archive)