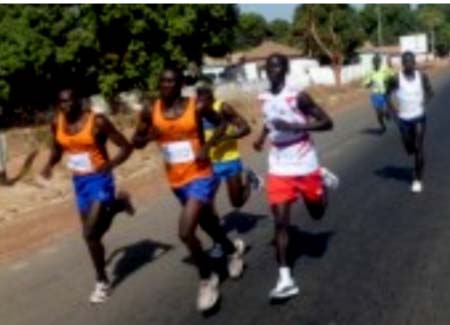 In a recent press release sent to media houses for the preparation of the 2nd edition of the Bajana International Marathon, the organizers of the event are working hard towards this upcoming mega event scheduled for 19 April 2014.
This was what Mr Roy Sanyang, CEO of The Gambia Volunteers Trust, had to say about the event:
Why Bajana International Marathon - this is for those of us who were not present or did not witness the first event?
The reason for the name change is that we are going international; hence we are having international participants from the UK, USA and Germany. We are also advertising the marathon globally to attract international runners and tourist who may like to witness the event.
As you mentioned the success of the last event, what were these successes and how were they achieved?
Our major success for the 2013 marathon was that the event went successful without any troubles.  We subsequently sponsored the male winners, Samba Bah and Alagie Bah, to go to Sierra Leone to represent The Gambia in the Street Child marathon. Both of them won medals as they came out 2nd and 3rd places respectively.  Hoja Secka and Mariama T Jallow were also sponsored to run in the Bupa great Manchester run in May 2013 in the UK.
Can you tell me how many participants took part in last year's Marathon, including those from schools, institutions and international participants?
We had over 150 participants mostly representing various institutions in The Gambia.  Schools, however, were not included but we are hoping they will participate this year; and there were only 2 International participants - all from the UK.
It is understood that your organisation is a charitable organization. Can you tell me how much fund was generated from last year event and how much was spent on your projects?
A significant amount was raised thanks to our sponsors and donors. We were able to spend over D25,000 on the refurbishment Bajana Nursery school, which was in a bad state.
What would be your expectations this time around - are we going to expect foreign participants?
Our expectations are high for this year's marathon. We are expecting participants from the UK, Germany and USA at least; even one international participant is a symbolic achievement. We are working very hard to bring this marathon to the international level.
The achievements?
We have successfully achieved our aim last year, which was to stage a marathon and get at least 50% of the country's athletes take part.  Athlete participation was tremendous and it exceeded our expectations.
We call on all media houses, schools, companies and institutions and to register their teams in the 2nd Bajana International marathon.
There will also be a cultural festival to welcome the runners and guests; tour guides are also invited to organise trips to the village as there will be a marathon and a traditional cultural festival.
About The Gambia Volunteers Trust
The Gambia Volunteers Trust(GVT) is a UK-registered international development charity organisation, fighting to enhance the dignity and to improve the lives of people living in poverty; to enable people to help themselves by providing practical opportunities to create a better future: to work with determination and care to empower people in need. We campaign against female genital mutilation (FGM) and raise awareness of the brutal act of FGM in the UK and The Gambia.
We serve the causes of peaceful development by enhancing opportunities for participation and promotion of volunteer work; helping to improve community projects by building and refurbishing nursery schools in rural communities.
We are universal, inclusive and embrace volunteer action in all its diversity. We value free will; commitment, engagement and solidarity, which are the foundations of volunteerism. 
Read Other Articles In Article (Archive)