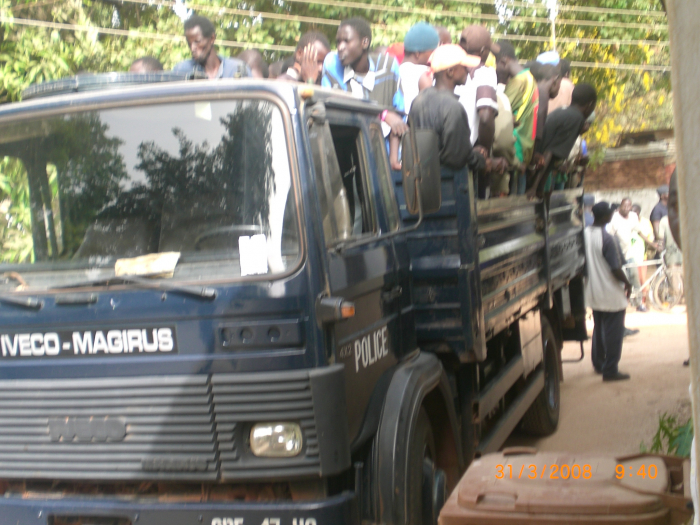 Up to 88 people were yesterday arraigned for three criminal offences of arson, conspiracy to commit a felony and being armed in public. The suspects, consisting of both young and elderly men, were brought to court amid tight security.
The were accused of having attacked and set fire to various houses in Babylon, a settlement between the villages of Makumbaya and Lamin, injuring two and destroying some property in the process. The alleged offences took place on Sunday.
The two wounded were, at the time of going to press, hospitalised at the Banjulinding Health Centre.
The attack was reportedly unleashed by the accused in protest at a long-running land dispute between the people of Makumbaya and one Lamin Jarjue, the de facto Alkalo of Babylon, who is allegedly agitating for a separate village status for Babylon.
The people of Makumbaya however contend that Babylon is part of Makumbaya. A matter regarding this land dispute has been in court for almost three years.
Our sources report that 10 houses, including that of Lamin Jarjue, were set on fire and 10 incomplete buildings and three generators were also said to have been destroyed. Four vehicles belonging to the supposed Alkalo and another one were also set alight. The 88 men arrested since were said to be armed with cutlasses, loaded guns and peak axes.
Meanwhile when the case was mentioned yesterday at the Brikama Magistrates' Court, the accused persons, apparently unruffled, pleaded not guilty to the charges preferred against them. They were however remanded in custody to allow the police to complete their investigations.
The case, which attracted numerous onlookers, was adjourned to April 7thfor continuation.
Read Other Articles In Article (Archive)