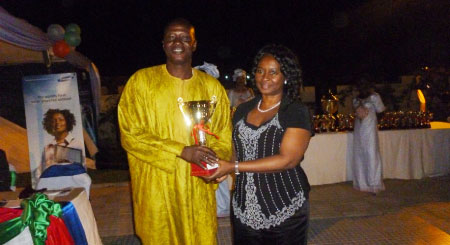 Baboucarr Sowe, alias Louds, is winner of the Gambia National Olympic Most Outstanding Sports Personality award, at its 14th Sports Banquet held over the weekend at the Djeliba Beach Hotel.
Born in Banjul on 6 September 1954, Baboucarr Sowe attended Windley Primary and BCC Junior Secondary schools. His football career kick-started when he was in Primary 5, and he continued at secondary school where he played for BCC's junior and senior teams.
Determined to make a career out of football, he joined Young Starlight where he was spotted and snatched by the fabled Phantoms Football Club in 1974.
At Phantoms his career blossomed. In his first year at the club, aged 19, he was selected to play for the national team then known as "Gambia XI".
By now he was one of the hottest properties in Gambian football with clubs lining up to get him into their ranks. Wallidan eventually priced him away from Phantoms in 1976 and he would go on to serve the Blue Boys faithfully for the rest of his career.
Barely two years after joining Wallidan, he took up captaincy of both his club and the Gambia XI. With his skills and ingenuity in midfield he helped Wallidan to win league titles, and The Gambia got famous victories against foreign teams.
Sowe holds the unique status of being the last man to captain The Gambia under its old name of "Gambia XI" and the first to wear the armband when the team started to play under its new identity of "Scorpions".
When he retired from active football in 1986 he remained in the game as a coach first with is choice club Wallidan for 5 years from1986, before going on to handle other clubs including Gambia Armed Forces.
He also served as a member of the technical committee of the Gambia Football Association.
From 2007 to date Sowe has been active as a technician with the GIFTS football academy - first as a technical advisor and head coach since 2009.
Read Other Articles In Article (Archive)