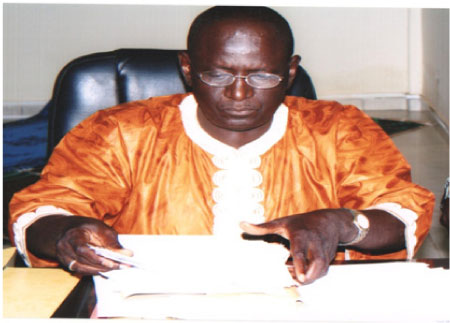 As part of their continued contribution to the development of the forest and The Gambia's environment, the Association of the Wood Re-exporters and Forest Users in The Gambia recently presented D15,000 to the department of forestry for the purchase of seedling for the restoration of The Gambia's forests.
The gesture is meant to support the national tree planting across the six regions of the country.
The presentation was held at the department of Forestry offices in Banjul.
Speaking shortly after the presentation, the vice chairman of the association, Baboucarr Jammeh, highlighted the commitment of the association to national development.
"The association of re-export and forest users in The Gambia is formed not only to make profit but also to give support to various developmental areas in the country through the Ministry of Forestry and the Environment.
He reassured the forestry officials of the association's commitment in complementing the government's efforts in restoring the environment.
Mr Jammeh also used the occasion to advise his association members to always respect the law of the land as well as participate more in the reforestation of the country's environment.
For his part, the chairman of the association, Lamin Barrow, expressed delight and appreciation with the support of the Government of The Gambia towards their association.
He said the association is geared towards contributing their quota to national development through the Ministry of Forestry and the Environment.
He said the money was presented to the department of the forestry to support the department and enable it respond to the call of the president in the restoration of the country's forest through tree planting across the country.
Chairman Barrow further used the opportunity to emphasise they and the Ministry of Forestry and its line department should always see each other as partners in development.
"We are complementing each other's effort in national development," he said, while taking the opportunity to thank the Gambian leader for recognising his association and for his support in ensuring that the donation was made possible.
In receiving the money on behalf of the director of forestry, Hatab Camara, a senior forestry officer, hailed the Association of Wood Re-exporters and Forest Users for complementing the effort of the forestry department in national development.
"The money will be put into good use and its intended purpose for that matter," he assured the delegation
He also used the opportunity to register his gratitude on behalf of the acting-director of forestry to acknowledge the effort of this association and assured them that the forestry department would continue to work with any group that is committed to national development.
Read Other Articles In Article (Archive)