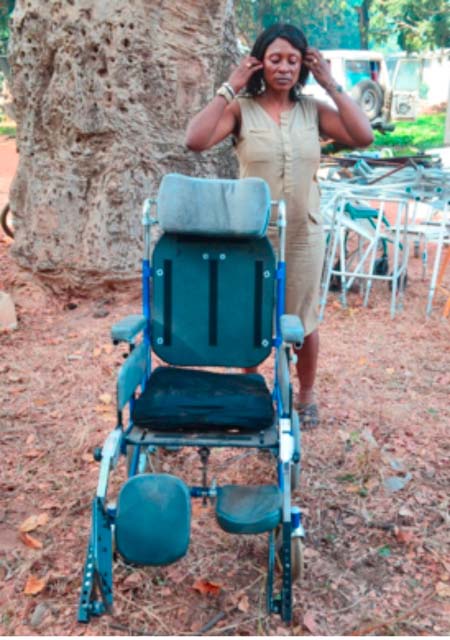 Assie Camara-Jakobsson, a Gambian philanthropist residing in Sweden, last Wednesday donated hospital materials to Serrekunda General Hospital, Bakau Health Centre and other health centres.

The materials, donated by the Bakau-born Gambian, included hospital beds, mattresses, crotches, bed sheets, chairs, walking sticks, walking aids, adult pampas, commodes, and other valuable materials.
Mrs Camara-Jakobsson said she is motivated to support and improve the Gambian health sector, saying she would like to set an example for other Gambians to follow.
"It is not about what your country can do for you but what you can do for your country," she said, adding: "It does not cost much to support your nation, it only requires time."
Mrs Camara-Jakobsson, who has been residing in Sweden since 1993, said: "It only costs a little to do something good and we have got the opportunity there seeing these things being thrown away."
She took time to thank Ousman 'Rambo' Jatta, Famara Bojang, her Swedish friends for their hard work and Karlan Transport for its assistance, and especially her husband Karl Arne Jakobsson for his "unflinching support".
In receiving the materials, Alieu D. Badjie, public relations officer of Serrekunda General Hospital, said the materials will be of benefit to humanity in general.
He described Assie's contribution to national development as second to none and called on other Gambians in the Diaspora to emulate her.
Mr Badjie said the materials would go a long way in complementing Government's efforts.
He assured Mrs Camara-Jakobsson that the materials will be put into good use and further thanked her on behalf of the Ministry of Health and Social Welfare and the management and staff of Serrekunda General Hospital.
Kebba Sonko Officer-in-Charge of Bakau Health Centre, for his part, said they were "really pleased" receiving the gesture.
The materials will improve the health status of Gambians, Mr Sonko added, while describing Assie as a citizen "that is doing a great job in contributing her quota towards national development".
Read Other Articles In Article (Archive)