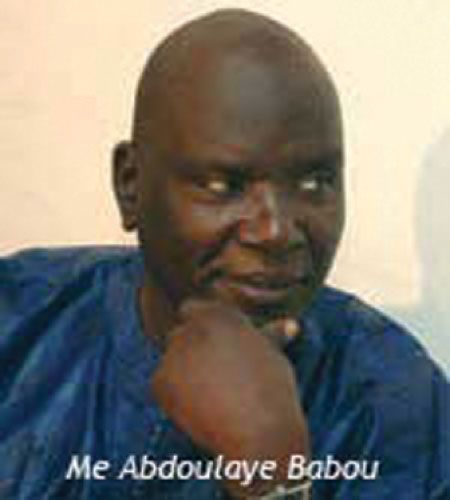 Me Abdoulie Babou, the special envoy of Senegalese President Abdoulaye Wade's party and their coalition partners, who reportedly came under attack in Banjul by a group of young Senegalese, has forgiven his attackers.
According to information received, the envoy demanded a public apology from his attackers.
Meanwhile, following his arrival in Banjul, Babou has reportedly accused the Senegalese High Commissioner Prof. Diamme Signate of interfering in party political affairs despite being an administrator, and vowed to sue him.
Professor Signate was also reported to have threatened to sue the envoy for embezzling political funds.
Our sources further intimated that Me Babou suspected Signate and a Senegalese Diaspora Senator in The Gambia, Ms Awa Guaye Cham, of masterminding his harassment in the country.
However, after the police intervened, both officials were said to have laid their cases to rest, thus paving the way for Me Babou to continue advancing his mission in The Gambia.
Me Abdoulie Babou, who arrived in The Gambia on Monday to boost Wade's campaign in the country, was in the capital city to greet the religious leaders, all aimed at boosting the Fal 2012 Coalition's campaign, when he was allegedly attacked by youths believed to be Senegalese nationals residing in the country.
The envoy, who is a lawyer and a member of parliament in Senegal, after he was reportedly attacked, was rushed to Pakala Clinic in Banjul for a medical check-up.
An eyewitness told The Point that Babou, who is also the President of the Law Commission in the Senegalese Parliament, and at one time a minister in Wade's Government, had his shirt torn.
He was believed to be carrying money from incumbent President Abdoulaye Wade, amounting to 15 million CFA equivalent to D900, 000.
He is in The Gambia to canvass more votes for President Wade from the registered 16,000 Senegalese voters in The Gambia.
It was alleged that President Wade had sent a huge sum of money to The Gambia in the first round of voting in the Senegalese presidential election, but the money was mismanaged.
Me Babou was reported to have held a meeting with his party supporters in Banjul last evening.
It would be recalled that Senegal on 26 February 2012 held its first round of election amidst controversy over the constitutional validity of a third term for the incumbent, President Wade.
A run-off is scheduled to take place on 25 March between him and his main rival Macky Sall.
Read Other Articles In Article (Archive)