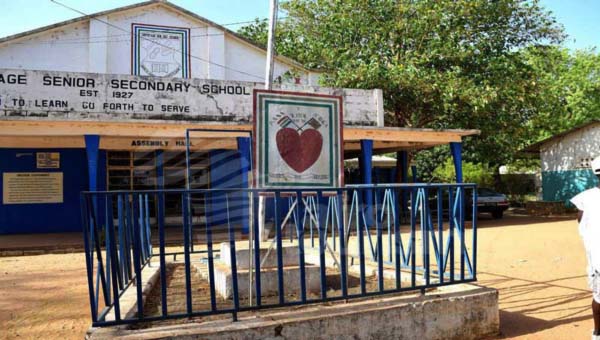 Armitage Senior Secondary School, the oldest high school in The Gambia, will clock 90 years next month and the school administration, in collaboration with the ex-students association, has outlined series of events to mark the day.

The commemoration is scheduled to coincide with the school's speech and prize-giving ceremony on 8 July. A conference will be convened on 7 July which among other things will depict the history of Armitage as the oldest and first high school in The Gambia.
A delegation led by the chair of the Armitage ex-students board of trustees Edrissa Jobe of Gamtel, the president of Armitage ex-students association, Papa Sey and executive members such as Mbinkinding Darboe, Bakary Manneh, Ahmed Hydara and Ebrima Baldeh on Monday morning traveled to the school in Janjanbureh to inspect and gauge the level of preparedness ahead of the historic anniversary.
The school authorities, Armitage ex-students association and the board of trustees of Armitage are inviting all and sundry, especially ex-students of the school to grace the event in Janjanbureh.
Eminent personalities expected to grace the event include the overseer of the office of the Vice Presidency, and minister of women's affairs, Fatoumatta Jallow-Tambajang has graciously accepted to be the guest speaker at the speech and prize-giving ceremony.
The principal of the school, Sulayman Keita, ex-student of the school in the 1980s, said he was quite elated to welcome hundreds of people in Armitage on the 7th and 8th July, to attend the conference and speech and prize-giving ceremony.
Mr Keita said there is no doubt that Armitage school is on track to reclaim its lost Armitage glory. He called on all and sundry to lend support to Armitage and work towards ensuring that the logistical needs of the school are adequately provided for the good of the school.
For his part, Musa Susso, the vice principal in charge of administration and academic, an ex-student said his first task after his appointment was to ensure that the dismal performance in the 2009 West African senior school certificate examinations was remedied.
He said as an ex-student of the school, he was quite disturbed with the trend, which he described as 'the dark ages' of the school.
The availability of enough food supply for the more than four hundred students in the school can be an impediment to academic performance if the food supply is insufficient. Mr. Suso therefore called on the authorities to ensure that the student's welfare is adequately catered for.
In their recollections of their times in the school, Baba Ceesay and Hassoum Ceesay of the National Centre for Arts and Culture said they had good times in the school and wished that the good old days be rolled over. They pledged to do whatever it takes to improve the school.
The visiting delegation inspected the school facilities which included the fish pond, the kundas, the dining hall, the old and new basketball pitch.
Media release from Armitage ex-students association
Read Other Articles In Article (Archive)