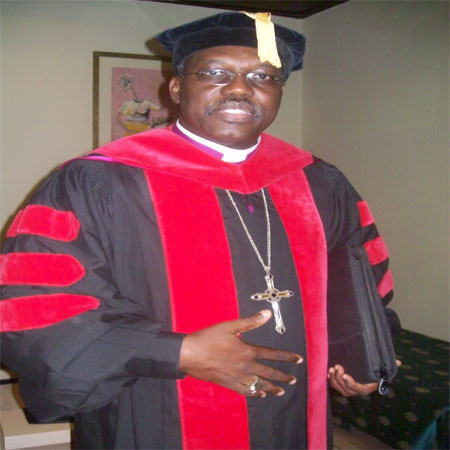 The Rt. Revd Dr Solomon Tilewa Ethelbert Willie Johnson, First Archbishop of the Internal Province of West Africa and the Ninth Primate and Metropolitan of the Church of the Province of West Africa, has passed away.
His fateful death took place on Tuesday night, 21 January 2014 at the Medical Research Council, where he was taken for treatment immediately after he suddenly collapsed when playing tennis with his friends at the Fajara Club in Fajara on Tuesday evening.
According to his elder brother, Rev Victor Clayton-Johnson, who spoke to The Point yesterday, the late Archbishop was well and fine before his passing away.
The Archbishop complained of no ailment that could be associated with his death, he said, adding that all he could say was a "heart failure".
"He used to go to play tennis at the Fajara Club. With the excitement, he wanted to hit a ball and he just collapsed. They rushed him to the MRC and did all they could to bring him back to normal condition, they could not, and he had his call," Rev Johnson explained.
"I know he had a slight knee problem but he used to exercise. No ailment known of really, but that's life; it is always the unexpected. I always say the unexpected is what makes life seems interesting, and the accepting of certain happenings goes down to give experience, for you only wake up tomorrow if you sleep tonight, and he slept he never wake up again – that's life!"
Rev Johnson recalls the children, saying: "It will be sad for the children, who are living abroad in the US, to hear this, especially Dado, who was here in The Gambia just a week or two ago -God is great!"
He also said the late Archbishop's wife, the Revd Mrs Priscilla M.G. Johnson, "is a bit calm" as people are around her giving her love and care.
Giving a brief recollection of his late brother, Rev Johnson said: "He is my brother; one mother one father, although I was out of the country for a long time.
"We were both together at home two Sundays ago discussing, but little did I know that after some time I would not see him again. Sad but I have to accept it!"
Commenting on the loss of the Archbishop to The Gambia and beyond, he said: "It is a big loss; not only to our little Gambia, because he made record to be Archbishop of West Africa from little Gambia. He made us - whether you are a Muslim, a Christian or a free thinker - to be proud of a brother who reached that height.
"He is a man of the people, because he went to school in The Gambia, and lived and rendered major services in The Gambia.But in all I thank God, I know that he will be received and given a restful home, because he achieved a lot, and God has blessed him. And one interesting thing is that when he was young he used to build altar at home to be conducting services, so it came to the point that his dream came true and he has achieved it; so he has done a lot.
"He has got an early home call; only God knows why, but let's thank God for life and the accepting of certain happenings. He is now free from certain things.
"When I was looking at him at the morgue (Edward Francis Small Teaching Hospital) I could not believe that he was my brother; but that is life. I am the only one left now – mummy has gone, daddy has gone and he has gone – because it was only the two of us, and as the elder brother I have to take courage."
Rev Clayton-Johnson also said there is a planned Synod to be held in The Gambia next month, which many bishops, including the archbishop of England, are expected to attend.
Regarding the funeral arrangements, he said this will be announced later as it will involve going through various traditions and channels of the Church of the Province of West Africa (Anglican Communion) and its link in Ghana.
Brief Biography
Born Solomon Tilewa Ethelbert Willie Johnson to Samuel and Eliza Johnson on 27 February 1954, the late Archbishop Tilewa Johnson was husband to the Revd Mrs Priscilla M.G. Johnson with three children (two girls, one boy).
He attended the Wesley Primary School from 1962 to 1966. From 1966 to 1972, he attended Gambia High School. From 1977 to 1980 he obtained a diploma in Theology at the Trinity Union Theological College, Umuahia, Imo State, Nigeria. From 1982 to 1985, he obtained a BA (Hons) in Theology at the University of Durham, Durham, the UK, and from 1997 to 2000 he became a graduate of the Theological Foundation of Indiana in USA with a Doctorate degree in Applied Ministries.
The late Archbishop Tilewa Johnson was a Deacon from 1979 to 1980, a Priest from 1980 to 1990 and was Anglican Bishop for Gambia, Senegal and Cape Verde. On 28 September 2012, he became the First Archbishop of the Internal Province of West Africa and the Ninth Primate and Metropolitan Archbishop of the Church of the Province of West Africa.
He also had wide Ecumenical experience working and serving for many institutions and national committees. He was the first Chairman of the Independent Electoral Commission (IEC) of The Gambia from 1997 to 2000.
Read Other Articles In Article (Archive)