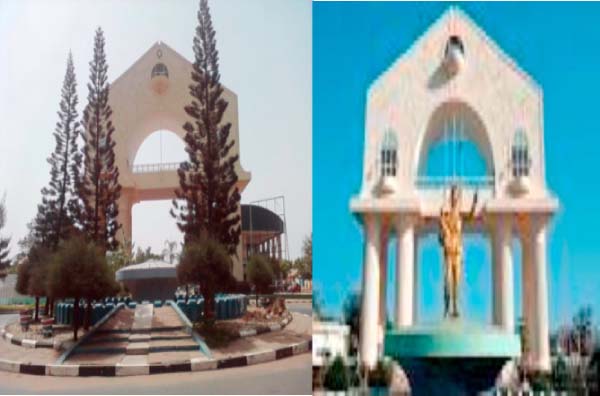 The monument in front of the Arch 22, when entering Banjul, has been demolished by an unknown source apparently due to its association with the former president, Yahya Jammeh

The mayor of Banjul City Council, Abdoulie Bah, said his council was not informed when the demolition was being carried out.
"I was told in the morning that there was a task force that was working on this thing. But if at all my line of ministry was part of a protocol, I think it was more proper for them to inform the Council, and that has never happened, well not to my knowledge," he said.
It was also a surprise to discover that no consideration was given in informing personnel at the National Centre for Arts and Culture.
The Senior Museum and Monument's officer, Damba Y. Baldeh, said if such a thing was to happen, they should have been informed.
"If this thing is to happen, you remove and replace another meaningful thing so that you will not leave people in a vacuum," he said.
"As custodians of culture, we should have at least been informed. Our statues as well have been stolen; the 'griots' that were seated near the 'soldier and the baby'. We have sent our senior security officer to go and investigate that."
Some Gambians are of the opinion that demolishing it was the right thing to do.
Sarjo Jallow, staff of the Ministry of Finance, said he was fully in for the demolition of the monument.
"I am 100% sure that we don't need it anymore. Now we're in a new era, the monument was Jammeh's and all that he represented and still represents. It must be completely out of sight," he said.
However, the majority of the populace are disheartened by the sudden eradication of this historically important monument.
Sanku Sonko, a native of Banjul, said: "I don't think it was necessary, but maybe because it looked a lot like the former president Jammeh that might be part of the reason why it was destroyed. Looking at the historical impact it had, I believe it was totally wrong. You cannot just wipe out history like that."
Read Other Articles In Article (Archive)