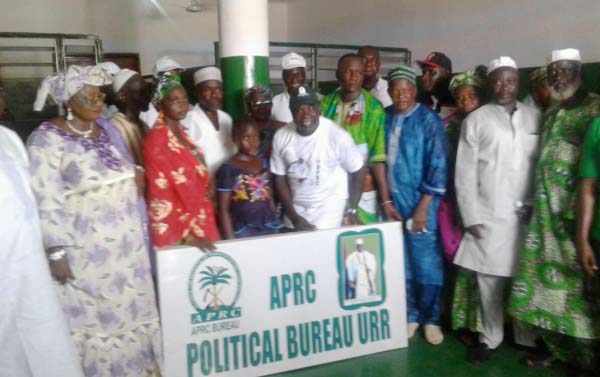 A new regional bureau for the ruling Alliance for Patriotic, Reorientation and Construction (APRC) party was on Saturday inaugurated in the provincial town of Basse in the Upper River Region (URR).

Speaking at the inauguration, Alkalo of Basse Salieu Bah said the bureau will play a very important role in URR and beyond.
"We all know that politics will not work properly without a bureau, so for that being the case the new bureau would help the youth and the ruling party to function well in terms of politics. I can also promise that we will not abandon the office; people will be there 24/7 to discuss about politics."
APRC URR Chairman Bajoko Dukureh said now that the bureau is officially opened, they are happy and ready to work with the APRC anytime.
"Since 2006, URR has been electrified so we have nothing to say to President Jammeh but to thank him for all he continues to do for the region and the entire Gambian populace," he said. "We know the only way for us to pay him back is to give him our votes and come December 1, we will again vote him to office for him to continue leading us forever."
Omar Sampu Ceesay, governor of URR, said the political bureau which he calls APRC Bantaba was not built by the Area Council but by the APRC Youth.
Lord Mayor of KMC and APRC National Mobiliser, Yankuba Colley, said now that the bureau is finally opened, it is time for the APRC to have 99.1per cent of the votes in the forthcoming president election.
"I know you would vote for no one but President Jammeh, there is no doubt about that, but I am begging all of you not to listen to these people who called themselves oppositions. I don't even want to call their names because they get nothing we can talk about," the APRC propagandist said.
He also called on the women not to listen to "the lady from GAMCOTRAP" because that office no longer exists in The Gambia.
"Any time she calls you for a workshop, do not listen or even attend such gathering," he affirmed.
As part of his contribution to the ongoing youth rally in Basse, President Jammeh gave 22 bulls and D80,000 to the youth.
Read Other Articles In Article (Archive)