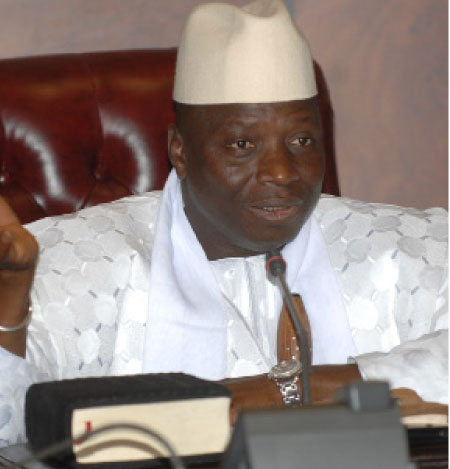 Announcing the imminent creation of an anti-corruption commission, as well as unveiling a new Vision 2024 to attain economic superpower status, were the headline news items in President Yahya Jammeh's address to the nation, delivered to mark the 20th anniversary of the coup on 22nd July 1994 which first brought him to power.
"We are on the verge of establishing an Anti-Corruption Commission very soon", President Yahya Jammeh announced.
"Corruption and greed have become some of the main challenges to our efforts to develop this country, and we are committed to eradicating them without mercy, and by any means", Jammeh declared in his address Monday night on national television.
"The fight against corruption is not only a duty for the government, judiciary and legislature, but a divine duty and a moral obligation for all citizens", he added.
He went on: "The Holy Quran enjoins all Muslims to not only desist from corruption, but to eradicate it and this is exactly what my government has ever stood for to the extent of establishing an Anti-Corruption Commission very soon."
It would be recalled that the National Assembly meeting in Banjul on 19 May 2013 ratified the 2003 UN Convention against Corruption, UNCAC.
The UNCAC came into force in 2005 and had been ratified by more than 155 countries, that is, more than two-thirds of UN member states. The convention obliges states to prevent and criminalize corruption, and to establish national anti-corruption bodies.
Called the "22nd July Revolution" by the Gambian government, President Jammeh in his speech on national television Monday night also announced that the theme for this year's anniversary celebration is: "With Allah the Almighty on our side, and all of us working together, economic superpower status will be achieved by 2024".
"This theme has been adopted considering our collective national desire for high living standards as articulated in Vision 2020. Accordingly, we will continue to move forward, guided by the objectives of Vision 2020, as we seek to attain economic superpower status by 2024".
"With Allah on our side and by working together, the attainment of economic superpower status is within reach", he added.
On foreign relations, he said the government will continue to pursue "the Gambia's strategic interest" by maintaining friendly relations with countries around the world, based on mutual respect and equality.
"We shall not waver in the promotion of peace around the world, especially within Africa, as it is only through peace that we can enjoy sustainable economic development, and get ourselves out of abject poverty".
President Jammeh ended his statement with a call for "unity, dedication and commitment to the nation and its interest".
"Fellow Gambians, our wish for economic superpower status is not a fantasy, but is actually within reach and perhaps sooner rather than later. We have what is necessary to transform our dear country into a first world country. All we need is unity, dedication and commitment to the nation and its interests…
"As a government, we have laid the solid foundation for rapid socio-economic development, and it is up to the citizens to take advantage of the opportunities."
The Point will publish more information drawing from the President's speech, in subsequent editions.
Read Other Articles In Article (Archive)