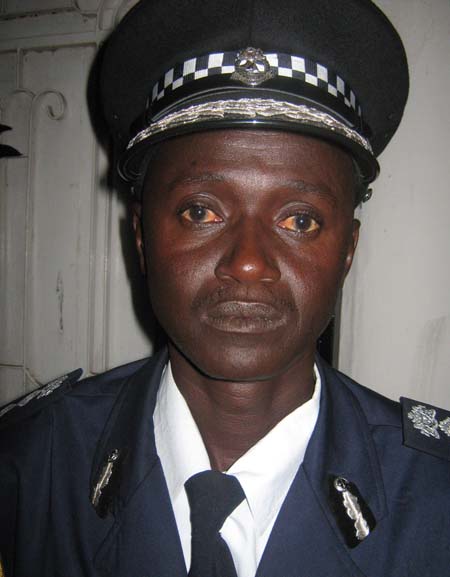 The sixth prosecution witness has been giving evidence in the trial for robbery related offences involving ex-IGP Ensa Badjie and Chief Superintendent of Prison Ali Ceesay, which yesterday proceeded before Justice Ikpala at the Special Criminal Court of the high court in Banjul.
This latest prosecution witness, one Amadou Jallow, is also a convict serving time at Mile 2 prison.
He told the court that he is from Basse in the Upper River Region, and that he knows both accused persons.
PW6 recalled the day in 2007, when Ebrima Suma and Yusupha Baldeh came to his house, at around 6 am, with an amount of D90, 000 in their possession.
"I asked them where they got this money from, and they told me that they got the money from executing a mission given by the 1st accused person (Ensa Bdajie) and Soriba Condeh alias Ramsi (PW1)," the 28-year-old state witness told the court.
Two months later, he continued, "I received a call from Yuspha Baldeh informing me that they have another mission. I asked who gave them the mission, and he told me that it was Soriba Condeh (PW1)," Jallow added. "PW1 also informed me to meet him at City Pub and, at City Pub, I found PW1 sitting inside a taxi at the entrance of City Pub".
He said Condeh took him inside the bar, into a small room at the bar, where he saw the 1st accused. "Ensa Badjie asked Condeh 'who is this man?' and I responded that 'I am Amadou Jallow'".
PW6 added that Ensa Badjie then told him not to fear anything, because he was the one who gave them the mission, which was to break and enter a supermarket and take monies there.
At the supermarket, he told the court, "we found the watchman lying at the door, and Ebrima Suma and Salieu Baldeh tied him up, using a blanket owned by Suma."
"We then broke into, and entered the place, and took monies. We intended to take the safe, but we failed," he adduced.
The witness said they headed towards the Senegambia highway, with the intention of sharing the money among themselves.
The following day, PW6 went on, "I went to Bakoteh at Fatou Mendy's compound, where I met Soriba Condeh who asked me to stay. At around 1am, PW1 woke me up to go to the 1st accused."
Prosecution witness number six, as he was designated by the court, also said he saw Yusupha Baldeh, Muhammed Bangura, Ebrima Suma, Salieu Baldeh who were all part of the mission at the said supermarket at Dippakunda, located just after the bridge at Tipper Garage.
He said they encountered the police patrol team, during the mission and, consequently, they all ran away and dispersed. Subsequently, Salieu Baldeh was arrested by immigration officers.
Amadou Jallow further testified that, when they distributed the money, each received D15,000.
He said that soon after arriving at his compound, Salieu Baldeh's wife came to inform him about her husband's arrest.
"I also told PW1 about the arrest of Salieu Baldeh, who also called the 1st accused and told him that 'your boy has been arrested'" PW6, testified.
The 1st accused, he added, later told him that he heard of the arrest of Salieu Baldeh, and would see whether to have the case transferred to Bundung Magistrates' Court.
"The case was then transferred to Bundung, and was assigned to Sgt Jahateh in Bundung," he continued. That was the time Salieu Baldeh's wife was asked to bail his husband, and Sgt Jahateh told her to pay D2500 for her husband's bail.
"I gave D2500 to Salieu Baldeh's wife, who bailed him, and Salieu returned home," the witness further told the court.
"One day the police came to my compound and sealed it, and I was later arrested and, together with my landlord Pa Bangura, we were taken to Serakunda Police Station," Jallow added.
He said they were later transferred to the Serious Crime Unit in Banjul, and interrogated about Ensa Badjie's involvement in the crime. "Statements were obtained from us, likewise Soriba Condeh; then we were taken to Bundung Magistrates' Court and charged," he added.
Under cross-examination by defence counsel BS Touray, the witness admitted that Salieu Baldeh, Soriba Condeh, Mam Biran Gaye (now deceased) were all taken to court, when asked by the defence counsel to name those charged with him.
When quizzed whether Muhammed Darboe was also part of the case, the witness said 'No.'
Asked who was the trial magistrate during trial at Bundung court, "Amina Saho" replied Jallow.
Asked again what type of offence they were charged with, he said it was for armed robbery.
"Was that case concluded", quizzed the defence counsel.
"It was not concluded, because I threatened to disclose everything that had transpired between us and the 1st accused", Jallow replied.
"Can you tell the court where the alleged robbery took place?" "I cannot remember, because I do not know anything about that case," witness responded.
"Do you know BS Touray personally", asked counsel. "Yes, I know you", Jallow replied.
"Where did you first meet BS Touary?" "I first met Mr BS Touray in Basse, when he was the presiding magistrate there, because that court was not far from my home and I frequented the court, and saw you there", PW6 replied.
"When was your first time to be arraigned before a court of law", quizzed counsel. "My first appearance was in 2003, at the Kanifing Magistrates' Court," replied Jallow.
"Who was the presiding magistrate?" asked counsel. "I cannot remember", said Jallow.
"What was the outcome of the case?", asked counsel. "I was sentenced to two years, six months in prison with a fine of D70, 000."
Further asked by defence counsel Touray whether he was ever arraigned before the Basse magistrates' court, Jallow replied in the negative.
"How old are you?" asked BS Touray. "I am 28 years old", announced Jallow.
In his testimony, PW6 told the court that what his friends told him was that the D90,000 was from the proceeds of the mission given to them by Ensa Badjie and Soriba Condeh.
His friends also told him that they shared the D90,000, but did not disclose how much PW1 and the 1st accused received.
"The mission you were referring to was an operation," asked defence counsel, and in response Jallow said "I cannot say anything about that, because I was not part of that operation."
"Are you surprised that PW1 during his entire testimony in court he did not mention the said D90, 000", asked BS Touray. "I am not surprised because PW1 did not come to me, when he got the money. It was those two persons who came, and showed me the money", replied PW6.
At this stage, the deputy DPP, Mikailu Abdullahi, applied for an adjournment on the grounds that he has another case in another court.
Defence counsel BS Touray did not raise any objection, and the trial judge, Justice Ikpala, adjourned the case to today at 1 pm for continuation of the hearing.
Ex-IGP Ensa Badjie and Chief Superintendent of Prison Ali Ceesay are in court facing various charges, which they both denied. The charges are conspiracy to commit a felony, robbery with violence, receiving stolen property, aiding and abetting, robbery, conspiracy to commit misdemeanour, aiding prisoner to escape, official corruption, conspiracy to defeat justice and interference with witnesses, deceiving witnesses, offences relating to judicial proceeding, and using criminal charms, among others.
Read Other Articles In Article (Archive)