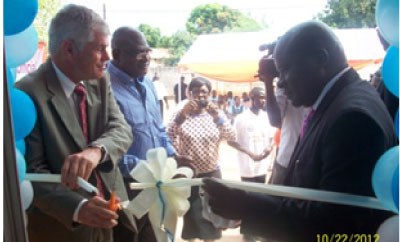 The American Embassy in partnership with Africell yesterday inaugurated a new American Corner located at Africell's new customer care services complex in Bundung.
The center which is the second of its kind in the country is meant for anyone interested in what America is and has become ranging from culture, education, government, history and current affairs.
The American Corners in The Gambia are part of a network of almost 400 American Corners in 60 countries.
The fundamental function of American Corners is providing access to current and reliable information about US via books and through local programming to general public.
American Corner program is a United States Department of State-sponsored initiative inaugurated worldwide some 10 years ago.
Speaking at the event, the American Ambassador to the Gambia, Edward M Alford, said that the center will host cultural exchanges, private public partnership forums, education and youth events and so on.
He said public private partnership (PPP) takes the best from the public sector and the private sector.
Ambassador Alford revealed that the hosting of the American Corner by Africell showed that they are concern and critically engaged in society.
The US Ambassador further stated that he believed the more people know about each other's culture, the more they appreciate each other better.
"Something like the American Conner is an opportunity to learn more about the United States", he added.
He further underscored the importance of education in The Gambia, while giving a salute to the government for their efforts such as taking universal primary education to the Gambian people.
The US diplomat emphasised the need for every young man or women to have excess to education in order to develop to their full potential.
He finally talked about the number of Gambians studying in America, adding that this imitative is a win-win situation for both countries.
In his opening remarks, Badara Mbye, CEO of Africell, noted the successes Africell has registered over the last years, which he said was due mainly to their team effort.
Mr Mbye said that the Amercan Embassy had seen the need to partner with Africell, and that the opening of the American Conner is to help in the field of education, and to create awareness in the society.
"If you look at The Gambia, we don't have many areas where youth can explore and learn about other cultures and other places, and we do have limited libraries in the country" , he said.
The Africell CEO assured all of their readiness to partner with US Embassy, hoping that the next project will be greater than this one.
Papa Leigh of Africell noted the several successes and services rendered to their customers, as well as the general public over the years.
He said Africell's efforts at promoting every Gambian is synonymous with the company's desire to reach every corner of the Gambia.
Read Other Articles In Article (Archive)