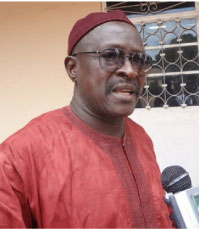 The Brikama Area Council (BAC)  and Eastern Foni Federation an affiliate of Child Fund The Gambia last Friday signed a memorandum of understanding ( MoU) at a ceremony held at the council's conference hall in Brikama.
As part of the MoU, the two parties commit themselves in the spirit of development and based on the concept of decentralization decided to partner in certain areas in order to provide and give better services to develop the communities they serve.
The two areas, based on mutual understanding, agreed to partner in areas such as children, youth empowerment and development through sports, education, health, water and sanitation, capacity building of local decentralized institutions, ward plan and strategy development plans of BAC, as well as strategy plans of the federation.
In his welcome remarks at the signing ceremony, Lamin Aja Bojang, vice chairman of BAC, expressed delight and appreciation to be associated with the signing ceremony between the two parties.
He noted that the importance attached to the MoU cannot be overemphasised in the sense that the two parties are in the process taking a commitment on behalf of their people.
He said that going by the MoU, the two parties are joining hands in developing their youths and children at their various localities.
He also advised the parties to adhere to everything they put on paper, and work as a team for the development of the youths in the districts.
Tamba Kinteh, the chief executive officer of BAC, also expressed similar sentiments.
According to him, this is not the first time there is such as development between the council and local organizations.
He went on to advice the federation to obey the contents of the document, and implement their agreement to the letter in the best interest of their people, particularly at the grassroots level.
He also used the opportunity to advice the youths to be involved in village development committees, ward development committees and in the implementation of programs and projects at the district level.
The president of the Federation, Edi Bah, said the Eastern Foni Federation is affiliated to Child Fund The Gambia.
He stressed that the federation is concerned about the welfare of the youths and children in the area.
He commended the BAC for being very good development partners in addressing issues affecting the livelihood of the youths in the West Coast Region.
"Therefore, this MoU will be a stepping stone into a partnership that will be looking into the interest and development of our communities," he said.
He also assured BAC that his federation will live by the dictates of the MoU in the best interest of their communities.
Ms Fatou Sanyang, deputy governor of West Coast Region, hailed both parties for coming together to forge such a partnership.
She challenged them to implement what has been signed and agreed, and to go further to set plans for their communities.
Read Other Articles In Article (Archive)