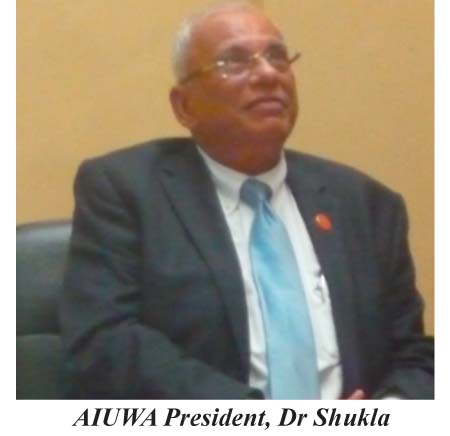 Dr Denish Shukla, president of the American International University-West Africa (AIUWA), has announced they are due to start a pharmacy technician programme at the university by May 2016 to capacitate Gambian pharmacists.
The first class of the programme would start with 30 Gambian students, whilst 400 other students are on the waiting list, Dr Shukla added.
Speaking at a press briefing held at the school, Dr Shukla said application had started for registered nurses and WASSCE graduates with required passes.
Dr Shukla also disclosed that within 5 years they had established 6 different colleges and each year they institute new programmes which qualify the students to achieve a certain level of knowledge in health sciences.
According to the AIUWA president, the need to have a pharmacy technician programme was put forward by the Gambia Pharmacy Council late last year.
"The reason for taking only Gambians is because the capacities of our pharmacists need to be built," he said, adding that a pharmacy technician is responsible for assisting pharmacists in preforming day-to-day tasks.
They do not require professional judgement or pharmacists, but could be reviewed by pharmacists to ensure accuracy, he said.
Pharmacists do not just have to do day-to-day work in the pharmacy by dispensing medicine; they also have to look after the patient's care, he added.
"The role of a pharmacy technician is basically medication preparation, dispensing, inventory management, education and preliminary patient assessment."
With few pharmacies in The Gambia, he noted, it was impossible for them to deliver the quality of care they would like to give because they are stuck with the day-to-day running of the pharmacies.
Also speaking at the press briefing, Dr Sankung Jobarteh, head of College of Pharmacy at American International University-West Africa, said there was a need for training of pharmaceutical personnel in the country.
Looking at the profession one would realise that they had very few pharmacy technicians, he said, adding that they would also go down to the rural areas to conduct more training activities.
Dr Jobarteh stated that they found it necessary and quite urgent, as a university, to come up with the programme, which would last three years.
"The prerequisites would be done in the first year, which would include basic maths, chemistry, biology, physiology and other important courses related to the pharmacy programme, because this is very important."
Upon completion of the first-year training, he went on, selection would be done for those that have met the requirements to venture into the actual programme.
He added that once they finished the two-year programme they would be subjected to an examination, and get certified by the American Pharmacy Technician Board and Gambia Pharmacy Council, provided they meet the requirements.
Dr Jobarteh also stated that it is sad to see people in the country doing the job of a pharmacist without the knowhow of drugs, yet the only reason some go into the business was they think there is money.
According to the Institution of Safe Medication Practice, he said, "patients often times do not die out of their underlying diseases, but due to medication error", which they want to address through capacity building.
Read Other Articles In Article (Archive)