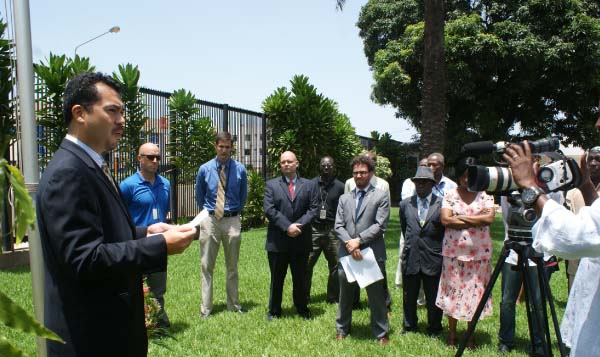 The US Embassy in Banjul yesterday joined Gambians and Americans in remembering those who lost their lives in the September 11, 2001 terrorist attacks.
The events of the day are a constant reminder of loved ones, friends, and thousands of victims whose lives were cut short.
Charge d'affaires Richard T. Yoneoka at the US Embassy in Banjul led a moment of silence to remember the victims, their families and those affected around the world.
In brief remarks at the embassy, the US diplomat "said twelve years on, we still remember, and we will never forget the thousands of innocent lives taken in New York and Washington.
''The events of that day occurred in America, but the impact has forever changed the entire world. Citizens from 115 nations were killed during the September 11 attacks.
"The Gambia personally felt the impact of that horrific day, as two of the individuals killed - Karamo Trerra and Mohammed Jawara were Gambian-Americans,'' he stated.
''On this day, we pause to think about the first responders who rushed into the burning buildings to save people they had never met, knowingly entering peril to help as others were fleeing for their lives. Many of those first responders made the ultimate sacrifice, giving their lives, on that day. Let us remember these heroes,'' the US charge added.
According to him, here in The Gambia, twelve years later, "the threat of terrorism might seem a world away, but the continuing threat of terrorism and the need to combat violent extremism is as relevant here in Banjul as it is in Kabul, Baghdad, or anywhere in the world".
He stated that as always done every year on this day since the horrific attack, Americans like people all around the world join together to honour the memory of those who lost their lives on that terrible day, pray for their friends and family, and thank those who continue to protect and defend them.
In Washington, President Barack Obama, joined by first lady Michelle Obama, vice president Joe Biden and wife Jill Biden, and members of the White House staff, walked out to the South Lawn at 8:46 a.m. — the moment the first plane struck the south tower in New York. Another jetliner struck the Pentagon at 9:37 a.m.
"It is an honour to be with you here again to remember the tragedy of 12 Septembers ago, to honour the greatness of all who responded and to stand with those who still grieve, and to provide them some measure of comfort once more," Obama said. "Together we pause, and we give humble thanks as families and as a nation." 
Read Other Articles In Article (Archive)