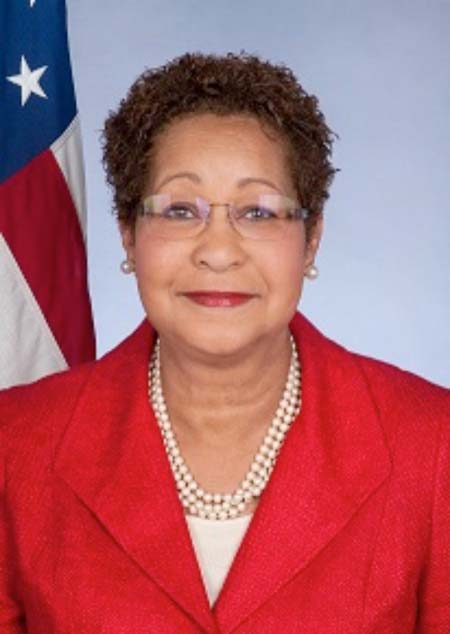 Ambassador Alsup presided at a ceremony yesterday at the Yundum Army Barracks to hand over donated medical supplies to the Gambian Armed Forces. The American Non-Governmental Organization (NGO), Benevolent Healthcare Foundation, based in Centennial, Colorado, made the donation possible. The container of medical equipment and supplies were provided through the Foundation's PROJECT CURE, the Commission on Urgent Relief and Equipment. 
The donation included a large variety of medical equipment and supplies, including office supplies, sensitive lab testing equipment, diagnostic ultrasound machines, surgical microscopes, humidifiers, kits for abdominal hysterectomy and general surgery, electrodes, and other supplies such as surgical caps, gloves, goggles, masks, lab coats, and bed linen. This container is the third of its kind that Project CURE has shipped to the Gambia Armed Forces in the last two years. The benefits of these shipments are not limited to members of the armed forces and their immediate families, but extend to all civilians in the community.        
In her remarks, Ambassador Alsup thanked Commodore Sillah Kujabi, Commander of the Gambia Navy, for being on hand to accept the donation, and noted that his presence showed the government's commitment to strengthening The Gambia's health systems, for the benefit of all Gambians.  She said, "I see improved health systems as a critical part of development in The Gambia, and it is my sincere intention to work towards even greater U.S. involvement in this sector.  I consider this ceremony an important step in U.S. involvement in health care in The Gambia." 
The Ambassador also told the assembled guests that a team from the U.S. Centers for Disease Control recently visited The Gambia and met with key government officials, World Health Organization staff, and other health partners. During their visit, the team discussed global health security activities, and identified collaborators for future programs aimed at strengthening The Gambia's public health. 
PROJECT CURE is one of the largest nonprofit organizations in the world that delivers medical supplies and equipment to developing countries. Its principal purpose is to collect medical supplies and equipment donated by manufacturers and hospitals, and then distribute them to developing countries based on a needs assessment. In The Gambia, the U.S. Department of Defense HIV/AIDS Prevention Program (DHAPP) worked with local hospitals and clinics to conduct that assessment.  DHAPP, partnering with Project CURE, made the handover ceremony possible.
Over the past five years, DHAPP has worked with the Gambia Armed Forces to expand its HIV/AIDS prevention and testing program.  In that time, DHAPP has built strong partnerships with the Gambia Armed Forces, the National AIDS Secretariat, and the Gambia National Laboratory. Through these partnerships, DHAPP increases HIV/AIDS awareness and reduces infection. 
In 2014/2015, some 2,174 military members and their families received comprehensive prevention messages through 35 sensitization sessions conducted at 14 different military installations throughout The Gambia.  Targeted groups included 392 peacekeepers, 882 potential recruits, and 25 peer health educators.
The Ambassador finalized her remarks by applauding the continued efforts of DHAPP and the GAF to reduce the HIV prevalence rate in the Gambia.  She added, "We sincerely hope that this container of medical supplies and equipment will make a significant contribution towards those efforts.  The U.S. Government looks forward to continuing its partnership with the government and people of The Gambia, as we carry on the fight together against HIV/AIDS, and work towards total eradication of this scourge from West Africa and beyond."  
Read Other Articles In Article (Archive)