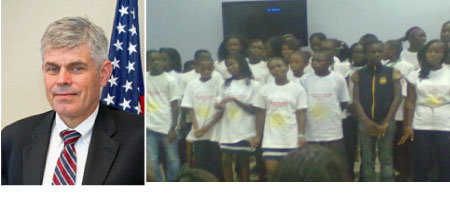 The Ambassador of the United States of America in Banjul, Ambassador Edward A. Alford, has been speaking on the importance of education to students from schools in the grater Banjul area.
The US diplomat was addressing students yesterday at the American Corner located at Africell complex in Bandung as part of activities marking the International Education Week
International Education Week is an opportunity to celebrate the benefits of international education and exchange worldwide.
The initiative is U.S. Department of State funded programme in their efforts to promote programmes that prepare Americans for a global environment and attract future leaders from abroad to study, learn, and exchange experiences in the United States.
Ambassador Alford reiterated the need for education, saying education is very important for The Gambia and the US.  He said this Education Week is a wonderful opportunity to highlight the importance of education.
"What happened this week is all over the world and including The Gambia; we have programmes to reach out to young students; let them know what is like to study in the US," said US Ambassador Alford.
He indicated that there is a whole lot of opportunity there for people to study and that financial opportunity might be available to students as well.
A lots of Gambian students are going to America to study, he said, adding that they learnt form the students from America and around the world and other teachers.
The US Ambassador said The Gambia has made tremendous stride in education, especially primary education, making every boy or girl to have access to it by 2015. "This is one of the dynamic successful programs I have ever heard about," he said.
He finally expressed hope that exchange of student programs between the US and The Gambia will continue to grow.
He explained how the US has been supporting education in the country. "Over a decade we have supported education and one of the primary support is the Peace Corps Volunteers that work in every level of educational system, including ministries, universities and secondary and primary schools.
"I also know that there are many professionals that come back here with American education and are contributing to the educational system, saying it has a win-win situation for both countries.
Ambassador Alford said that having two American corners in the country is an attempt to reach the youths to inform them about education opportunities.
Helping every boy and girl in Africa to reach the full potential is the priority of the US government, he remarked.
Read Other Articles In Article (Archive)