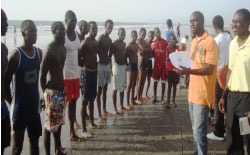 Gambia Swimming & Aquatic Sports Association will hold its 1st regional 500 meter Open Water competition on 18 February 2012 in Barra, North Bank.
The competition will feature male and female swimmers of North Bank Region who are above 14 years.
The swimming association, formed on 19 February 2011, will also hold the same competition in the other regions in the country as part of plans to stage a National Open Water Championship 2012.
Open water is both the youngest and oldest of FINA's disciplines. In Beijing it will be the fifth sport under the guardianship of the International Swimming Federation to join the Olympic family when the inaugural 10km marathon swim unfolds on August 20, 2012, but the journey actually began in ancient times.
The aims and objectives of the competition are to bring together all the swimmers from every region to demonstrate their marathon swimming skills. This will help the association to scout out for good open water swimmers for the National Open Water Team.
It is also done to promote, encourage, organise and develop Open Water Swimming and other related aquatic activities in all the seven regions of The Gambia, as well as to boost the morale and instill confidence and courage in young Gambians that love our beaches (e.g. Sunday beaches in particular).
The exercise would also reduce the number of deaths /fatal accidents registered during Sunday Beach activities among others; as well as for those who think they can swim end up drowning or losing their lives attempting to save others.
The regional competitions will provide opportunities for specialised marathon swimmers to start competing at standardised FINA Open Water competition rules and regulations.
The initiative would also expand the membership of the association in all the seven regions, in anticipation of creating mass participation in swimming.
The registration, which is currently in progress at the technical committee members' level, is expected to close by Friday 17 February 2012.
The technical committee could be reached on 6887460/ 7222444/ 3100214/ 9945337/ 3636363.
Read Other Articles In Article (Archive)