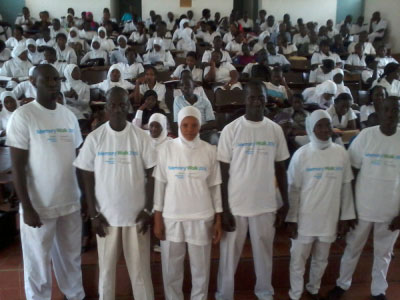 The Alzheimer Association in Reading, United Kingdom, a charitable association on Wednesday donated a total of sixty T-shirts to the School of Nursing and Midwifery, through Reading Gambian Society (REGAS).
Speaking at the presentation ceremony held at the School of Nursing's conference hall in Banjul, Lamin Fofana, head of finance department, Social Development Fund, explained that the main activities of Alzheimer focus on two main areas that's raising awareness and education.
He said these activities are aimed at increased public awareness and understanding about Alzheimer disease and its causes, including safeguards against the disease.
"One of the key strategies being employed by the association for reaching out to people in the community for enhancing greater public awareness and education about the disease, both in the United Kingdom and other parts of the world is establishing partnership with community groups and charities like Reading Gambian Society (REGAS), the activities of which encompass or involve working with people in the local community for enhancing community integration and cohesion, and building safer communities and localities," Fofana stated.
According to him, Reading Gambian Society is a registered local community charity group that satisfied and met its requirements for registration in 2010. He said it was formed by Gambian residing in Reading.
He added that one of the key charitable objects of REGAS is overseas assistance, mainly to needy communities, groups, families and individuals in The Gambia, with special focus on health promotion and education, and skills development for children and young people.
He said they have chosen School of Nursing, simply because it is the only one helping the sick people living in the country and then urged them to use the T-shirts in enlightening the public about the disease.
Lamin Suwareh, Principal Lecturer at the School of Nursing, commended the donors for their gesture and for using the School of Nursing, to enlighten the public about Alzheimer disease, which he said, affects the old people.
Read Other Articles In Article (Archive)