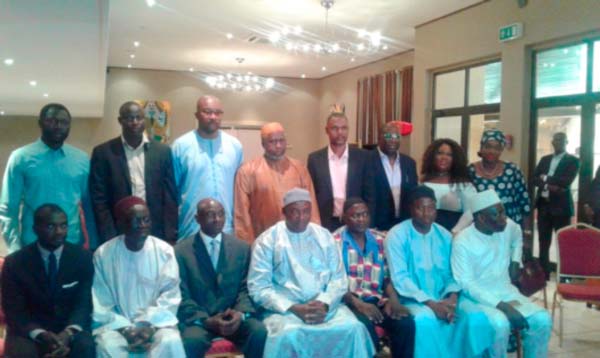 The Association of License Forex Bureaus (ALFOB) yesterday paid a courtesy call on President-elect Adama Barrow, at the Kairaba Beach Hotel.

In his remarks, Momodou Hamat Cham, ALFOB president, congratulated president-elect Barrow on his victory.
He said they have been paying taxes to government for some time now, but they were not quite recognised by the government.
Mr Cham said they have about 90 bureaus and more than 600 branches across the country, adding that they have been contributing to the socio-economic development of the country, and have employed thousands of Gambians.
He assured president-elect Barrow of their full support and cooperation with him to see The Gambia through.
Alhagie Mor Muhammeh Jobe of MJ Finance echoed similar sentiments, saying they are ready to work with President Barrow, to ensure that the socio-economic development of the country is taken to higher heights, as well as ensure a better standard of living for Gambians and people living in The Gambia.
In response, president-elect Barrow thanked ALFOB members, saying he was happy to receive them.
"The Forex Bureaus are offering wonderful services to Gambians and non-Gambians alike, anytime and anywhere in the country, since their inception," he said, adding that they are also contributing to the socio-economic development of the nation.
He assured them of his full support when he assumes office, as they cooperate and work to ensure a better Gambia.
Read Other Articles In Article (Archive)