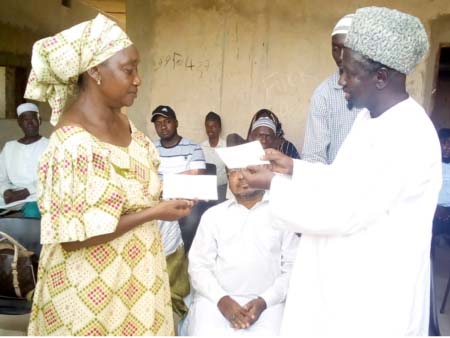 Ahmadiyya Muslim Jama'at-The Gambia and Humanity First, on Wednesday donated twenty-five thousand dalasi each to Brusubi Phase One Maternal, New Born Child Health Clinic towards its completion.

Speaking at the presentation ceremony, Baba F. Trawally, Amir of Ahmadiyya Muslim Jama'at -The Gambia explained that they visited the clinic months ago when members of the society appealed to them for help towards to completion of the clinic.
He described the venture by the community as a noble one, nothing that nothing is more important than health.
Amir Trawally said as a result of the importance of health, it is necessary for everyone to respond in assisting the community so that the clinic can be completed and open as soon as possible.
He noted that Islam is so beauty that it have two obligations which are to Allah the Almighty and humanity.
According to him, whatever assistance they render to the community of Brusubi is not a favor but their right, saying Prophet Muhammed (SAW) has always emphasized that people should always be kind to their neighbors, community members, society and humanity as a whole.
He went on to say that by helping humanity, people will have a just and peaceful society, highlighting their interventions in health, religion and education throughout the country.
Brusubi phase one Imam, Ensa Manneh commended the Ahmadiyya Muslim Jama'at and Humanity First for their generosity towards humanity.
He pointed out that people should always help one another in terms of needs, and also hailed the Ahmadiyya Muslim Jama'at for their strives towards education and health, saying that they have been encountering difficulties in accessing health care particularly for pregnant women who in most cases are not able to afford cost of private clinics.
Imam Manneh called for unity and togetherness among Gambians to ensure that Allah's blessings reign upon them both on earth and hereafter.
Dawda Joof, Secretary General for Brusubi Development Society said the construction of the health clinic has taken them years to complete and thanked the Ahmadiyya Muslim Jama'at and Humanity First for their assistance towards its completion.
He noted that upon completion of the health clinic, they intend to have various facilities for women, children, elders and others.
Read Other Articles In Article (Archive)