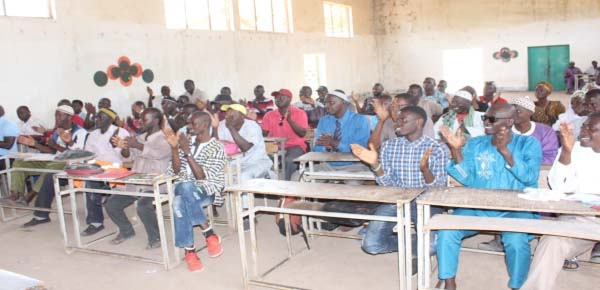 Gambia Committee on Harmful Traditional Practices Affecting the Health of Women and Children (GAMCOTRAP), in partnership with UNFPA have sensitized teachers and school authorities in Upper River Region-north on Female Genital Mutilation (FGM) and other harmful traditional practices.

Held in Diabugu Batapa and Nyakoi Taibatu villages, the forums brought together over hundred participants within Sandu, Wuli West and Wuli East of the URR. It aims to accelerate the abandonment of FGM and other harmful traditional practices such as early or forced marriage and Gender Based Violence.
In his opening statement, Musa Jallow, GAMCOTRAP team leader said the sensitizations were initiated after a research revealed that FGM is still practiced in URR.
"Therefore, we (GAMCOTRAP) deem it necessary to enlighten you on FGM and other harmful practices in order to help in the promotion and protection of the future generation."
According to him, the organization has no objection to positive practices by the masses particularly on women, instead it fight only the harmful practices affecting women and girl- child.
Mr. Jallow said FGM is detrimental to girl- child and women's health; while appealed to the educationists to play their quota in eliminating these disheartening practices. "Many are practicing FGM because they associated it with religious obligation but one should not suffocate people in the name of religious," he said.
He noted that despite the ban on FGM in 2015, some are still practicing it secretly. He called on the participants to enlighten the young ones on their rights, as well help to promote and protect their welfare.
Fatou Bojang, GAMCOTRAP field coordinator said FGM has numerous health complications on women, citing severe pain during birth, marriage consummation and urinary retention.
Ms. Bojang unveiled that many women are loitering around within their communities but they have nonstop bleeding that they never want to disclose with the masses, which she means is cause by FGM.
Malick Baldeh, GAMCOTRAP regional coordinator for URR said fighting FGM and other harmful practices should be a collective responsibility for all while said this harmful traditional practice is not a religious obligation but a traditional activity.
Kelepha Kandeh, health personnel said research has unveiled that URR registered among the highest maternal dead in the country, adding that this dreadful is cause by FGM.
He said this practice caused severe pain to women, excessive bleeding, urinary retention, and series of complications during birth as well causes women barrenness.
Foday Camara, participant said the culture of negotiating with perpetrators of harmful practices at the family level is the main factor undermining the crusade to end FGM, early/forced marriage in the society. "If a perpetrator of harmful traditional practices is punish. It would be a lesson for all but if FGM cases are neglected the practices would continue," he said.
Read Other Articles In Article (Archive)