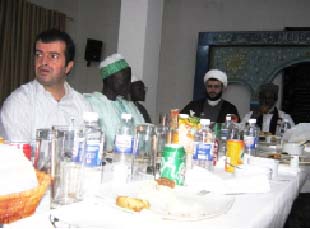 AHL ALBAIT Islamic Association (a Lebanese organizstion based in The Gambia) on Thursday September 10th 2009, held Iftar (fast breaking meal) for Muslims in the country.
The fast breaking held at the Lebanese Mosque in Kanifing was graced by several prominent Islamic scholars, including the Imam Ratib of Banjul Imam, Cherno Kah.
Speaking to reporters shortly after the meal, the Imam of the Lebanese community in The Gambia, Imam Sheikh Rabih Fiarhat emphasised the importance of sharing and caring among Muslims, especially in the holy month of Ramadan.
According to him, the fast breaking was not only meant to assemble people to eat, but to come together and renew their brotherhood.
The Lebanese Amir further revealed that his predecessors used to organise Iftar in the country and is also please to follow their footsteps.
Imam Ratib told reporters that just recently his association donated several bags of sugar, rice milk and other consumables to the poor and needy in the country.
"The religious people of The Gambia we are very close to each other. For us here we don't feel like foreigners in this great country," he said.
He used the opportunity to pray for the country and the entire Muslim Ummah.
Also, present at the Iftar were some prominent Lebanese Businessmen in the country.
Participants at the dinner heaped praises on the Lebanese community, describing the meal as a special offer.
As a show of appreciation, they also supplicated God to shower his blessings on the organisers.
Read Other Articles In Article (Archive)