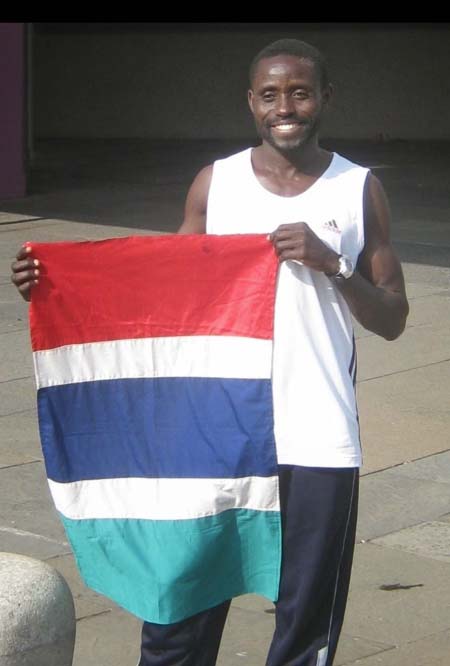 Gambia's long distance runner, Lamin Sanneh, who on Saturday returned to The Gambia from UK where he represented the country in the Leeds half marathon in West Yorkshire, held on July 20th, 2014 where he put up another brilliant performance, finishing in fourth place as he clocked 33.11 has set his sights on doing well in the upcoming July 22nd Marathon to be held on October 15th 2014.
Speaking to reporters at Banjul International Airport shortly after his arrival on Saturday, Sanneh described the July 22nd Marathon as another opportunity for Gambian athletes and, therefore, advised them to work hard for it.
As athletes they should try to love and enjoy what they do, he said, and called on them to have belief in themselves, and to be committed and disciplined.
He will have to start acclimatising himself as soon as possible, and prepare for the July 22nd Marathon as this is a national issue, Sanneh added.
He has to stay focused and do his best so that the young ones can follow and do better than him, he went on.
Sanneh said he is happy that everybody is ready to compete him in the July 22nd Marathon.
If the young ones are ready to compete, it means better times will come, he observed, while wishing them all the best in the marathon.
He knows they can do it, he added, and called on them to never give up hope and to ignore all negative talk.
His experience will give him a big advantage over the other athletes in the July 22nd Marathon, Sanneh continued, adding: "I will not get injured and will run the way I want to".
The Gambia Police Force athlete said he has to always give his best for the country whenever he represent the Gambia outside.
He described his three months stay in UK as months of hard work, and added that he learnt a lot in the process, and had a great experience.
Sanneh thanked the Gambia Police Force, Gambia Volunteers, Brufut Marathon, Commonwealth Games and everyone that has helped in opening his eyes to the world.
Read Other Articles In Article (Archive)