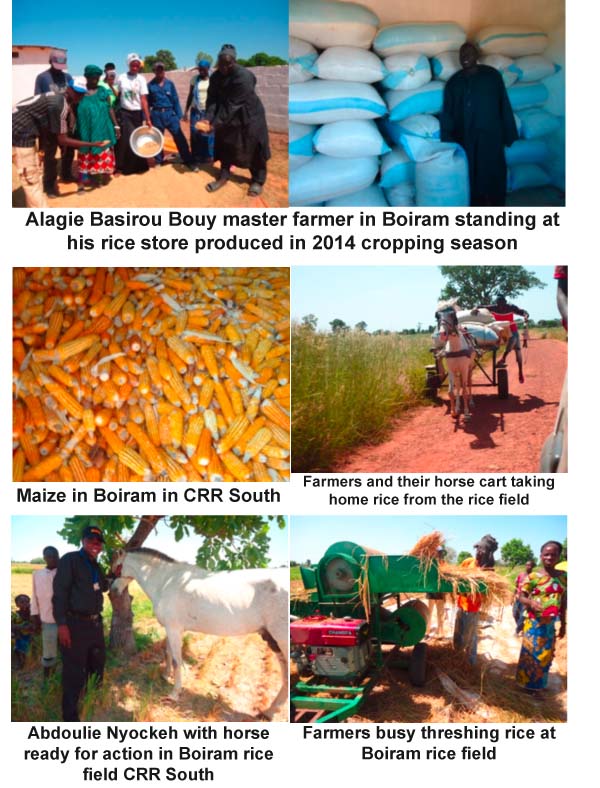 The Innovation Platform of Farmers in Boiram village in the Central River Region South has said that despite the rain season did not started early and stopped early, farmers are optimistic about getting a bumper harvest of rice and maize this year.
The platform added that the minimum tonnage for IP farmers would be at least ten tonnes of rice and maize, thanks to support from the West African Agricultural Productivity Programme, WAAPP.
WAAPP provided seeds and fertilizer to the IP beneficiaries to ensure that farmers produce high yields in rice and maize, which was all geared toward supporting the Vision 2016 agenda to end rice importation by 31 December 2015.
Speaking to this reporter in Boiram village, Alagie Basirou Bouy, a master farmer, said this year many farmers complained of the late start of the rainy season and the early ending of the season, but farmers in Boiram village have ensured that they produced more rice and maize.
Already he has harvested more than ten tonnes of rice, and was yet to finish harvesting the rice fields, and expects that he will be getting more produce this year.
Bouy thanked the National Agricultural Research Institute (NARI) for supporting the Boiram IP farmers with a threshing machine, which would go a long way in reducing post-harvest losses.
Farmers were encountering a lot of problems in managing their rice, but with this thresher would greatly help to reduce the burden, he added.
Bouy also lamented some of their concerns and constraints.
"We are ready to work to ensure that there is enough farm produce in the fieldsm but farmers need support in the form of agricultural materials, particularly combine harvesters and tractors, the provision of seeds on time, as well as fertilizers," Mr Bouy said.
He thanked the WAAPP project for its support in ensuring that the IP farmers attain a bumper harvest this year.
Read Other Articles In Article (Archive)