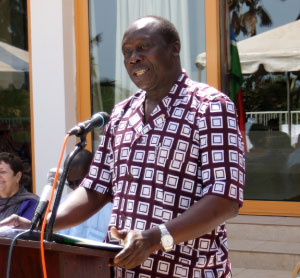 Farmers from across the country are gathering in Janjang-Bureh to discuss the challenges faced by their sector, as the first National Farmer's Conference opens today.
The three day event brings together over 200 people comprising agriculture experts, policy makers, farmers associations as well as senior government officials. The conference comes ahead of the cropping season which is expected to begin with the first rains.
Organized by the Ministry of Agriculture, the conference is aimed at engaging farmers in the various policy frameworks on agriculture so as to empower them with the knowledge and skills required to drive forward the agricultural development of the country and to achieve food security for all Gambians.
The conference comes after the 2011 crop failure, which has prompted the government and its development partners to assess its severity and its impact on the lives of farmers.
Habib Touray, the regional agricultural coordinator for CRR south, said: "CRR farmers are ready to host the conference and they have moved the earth for the event to take place successfully."
Mr Touray says that twenty farmers have been selected to represent the farming community of his region. It is hoped that the conference will address some of the issues which are impeding the progress and welfare of Gambian farmers.
 He said: "This forum is for farmers. It is not a political forum, all the issues that will be discussed will be centered on agriculture and agriculture related issues that are affecting the welfare of farmers. Our farmer representatives are well prepared and they have developed a petition paper that they will present during the conference."
Other regions have also selected representatives.
Ms Fatou Trawalleh, a councilor, says that women are well represented and have identified a leader who will present a paper on their behalf.
She said: "We hope to come up with suggestions and recommendations for the government and its development partners which can be used to plan ahead for the advancement of Gambian farmers."
The Technical Advisory Committee (TAC) for CRR has invited farmers from all sectors including horticulture, livestock, poultry farmers, fisheries farmers as well as farmer associations.
Read the Agricultural Spectrum for in-depth converge and analysis of the inaugural National Farmer's conference.
For comments, suggestions or contributions, please email saineymarenah@ymail.com or call +2203471343
Read Other Articles In Article (Archive)